TODAY'S READING FROM THE OLD TESTAMENT- – EZEKIEL 35:1-36:38.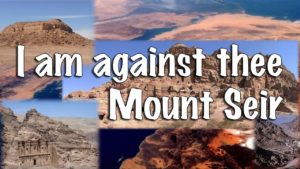 Ezekiel 35 contains another prophesy against Edom (Mount Seir). (The first was found in Ezekiel 25:12-14). The mountain of Seir in Ezekiel 35:2 is contrasted with the mountains of Judah in Ezekiel 36:1-15. There is a long history of Edom's hostility towards the Jews. Some believe that Ezekiel is using Edom as a representative of all the nations that oppose God's people. The Lord has heard all the contemptable things that the enemies of the Jews have said against 'the mountains of Israel' (Ezek 35:12). Because Edom rejoiced in the destruction of Jerusalem, the Lord promises their demise: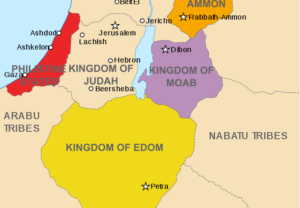 Ezekiel 35:9 9 "I will make you an everlasting desolation and your cities will not be inhabited. Then you will know that I am the LORD."
Ezekiel 35:15 15 "As you rejoiced over the inheritance of the house of Israel because it was desolate, so I will do to you. You will be a desolation, O Mount Seir, and all Edom, all of it. Then they will know that I am the LORD."
Whereas Edom is to be made a desolate waste, Israel will be restored. God's people will return to the land and the Lord will save them for His Name sake.
Ezekiel 36:8 8 'But you, O mountains of Israel, you will put forth your branches and bear your fruit for My people Israel; for they will soon come.'
We hear the promises of a new covenant:
Ezekiel 36:24-28 24 "For I will take you from the nations, gather you from all the lands and bring you into your own land. 25 Then I will sprinkle clean water on you, and you will be clean; I will cleanse you from all your filthiness and from all your idols. 26 Moreover, I will give you a new heart and put a new spirit within you; and I will remove the heart of stone from your flesh and give you a heart of flesh. 27 I will put My Spirit within you and cause you to walk in My statutes, and you will be careful to observe My ordinances. 28 You will live in the land that I gave to your forefathers; so you will be My people, and I will be your God."
God will not share his glory with false gods. He will vindicate His Name.
His goodness should provoke repentance.
Ezekiel 36:30-31 30 "I will multiply the fruit of the tree and the produce of the field, so that you will not receive again the disgrace of famine among the nations. 31 Then you will remember your evil ways and your deeds that were not good, and you will loathe yourselves in your own sight for your iniquities and your abominations."
These prophecies hint to a greater fulfillment beyond the return of the exiles to a return to a state similar to the garden of Eden, that is, the kingdom of God.
Ezekiel 36:35 35 "They will say, 'This desolate land has become like the garden of Eden; and the waste, desolate and ruined cities are fortified and inhabited.'
TODAY'S READING FROM THE NEW TESTAMENT – JAMES 1:1-18
The Epistle of James is one of the earliest epistles that we have in the New Testament, written by James, a leader of the church in Jerusalem (Acts 12:17; 15:13) sometime around 50 A.D. This is not the Apostle James, the brother of John. This James was the half-brother of our Lord Jesus (Galatians 1:19), who was not converted until after the resurrection (John 7:5; 1 Corinthians 15:7). 
James does not claim special authority or privilege by being related to Jesus. They had the same mother, Mary, but different fathers. Jesus was the Son of God; James was the son of Joseph.
He writes the 12 tribes of Israel dispersed. He is possibly referring to those tribes that are being scattered among the Gentiles referred to in John 7:35:
John 7:35 35 The Jews then said to one another, "Where does this man intend to go that we will not find Him? He is not intending to go to the Dispersion among the Greeks, and teach the Greeks, is He?"
Or it could possibly refer to the dispersion of the Jewish Christians from the 12 tribes scattered from the Jerusalem church after the persecution of Stephen (Acts 8:1; 11:19). Either way, James is making an appeal to Jewish believers and Gentile proselytes still meeting in synagogues or homes.  Some commentators give the date of this writing as early as 45 A.D.
There are about thirty references to themes that Jesus spoke about in His Sermon on the Mount. Christ's teaching had been passed on orally and would not be put officially in writing by the evangelists, Matthew, Mark and Luke, until sometime after James writes his epistle.
Although some commentators describe this letter as wisdom literature, giving random instructions for Christian living, it gives evidence as being a pastoral epistle, expressing James' pastoral concern for the Christian assembly. He wants to be sure that those who profess faith in Christ actually possess faith in Christ. He does not want them to be deceived into thinking that they are Christians when they do not have a genuine saving relationship with Jesus Christ.
James 1:16 16 Do not be deceived, my beloved brethren.
He warns of self-deception in which people assent to a Christian creed without a personal response of committed trust in Jesus Christ as their Lord and Savior.
James 1:22 22 But prove yourselves doers of the word, and not merely hearers who delude themselves.
He further explains that if a professing believer can give no evidence of a life change, such as in his or her attitudes, speech, behavior and  relationship to sin, the world system, and other people, their claim to be 'saved' is not justified before men.
James 2:24 24 You see that a man is justified (before men) by works and not by (a claim of) faith alone.  (Words in italics, mine, to put the verses in the context of James' argument).
James 2:26 26 For just as the body without the spirit is dead, so also faith without works is dead.
James underscores his pastoral letter with an appeal to the entire congregation to not only examine themselves to see if they themselves are in the faith, but to reach out to those who have been self-deceived and turn them to the truth of the gospel (James 5:19-20).
James had an up close and personal experience of the Lord Jesus. He observed his sinless behavior. When people professed identification with Christ yet lacked any semblance of Christlike behavior, James could readily reprove them.
James Chapter 1 deals with the problem of temptation and trials.
All believers experience trials and temptations.
1 Corinthians 10:13 13  No temptation has overtaken you but such as is common to man; and God is faithful, who will not allow you to be tempted beyond what you are able, but with the temptation will provide the way of escape also, so that you will be able to endure it. 
How we respond to both trials and temptations is a test in itself. Are we willing to trust God?  Are we ready to take responsibility and not blame God for our problems? Can we wait patiently for God's provision for heavenly wisdom, for communion with His Word and Spirit as a way of escape from temptation? Are we willing to trust Him for the grace to endure? We can be confident that He uses trials and temptations to conform us to the image of His Son.
What should we do if we are baffled in the trial? Ask God for wisdom. Let Him feed your mind with Scripture. Jesus faced the tempter in the wilderness with the two-edged sword of God's Word.
What does James mean when he speaks about asking God for wisdom in faith? He admonished them to receive God's counsel with the intention to carry it out. He addresses the 'double-mindedness' of those who ask God for wisdom, but doubt that it is worth implementing when they receive it. These are the 'hearers' who balk at being 'doers' of the Word.
He who endures trials, dignifying them with a godly response of trust in God, will be blessed by Him, receiving the crown of life.
God's good and perfect gift is His gift of life in Christ Jesus. He brought us forth by the word of truth- the gospel (James 1:18). The result of saving faith will be evidence of an expression of His life (the fruit of the Spirit) reproduced in us, so all creation looking at us would see what God is like. 
TODAY'S READING FROM THE BOOK OF PSALMS – PSALMS 116:1-19
Psalm 116 is a personal psalm of thanksgiving. The Lord has shown us His covenant blessings. "I love the Lord" because He has heard my voice and my pleas for mercy.
It is said, "Grace is getting what you don't deserve. Mercy is not getting what you do deserve."
The Psalmist was apparently at death's door (v.2, 8) and God delivered him.
Psalm 116:12 12 What shall I render to the LORD for all His benefits toward me?
The answer? Public worship.
Psalm 116:13-14 13 I shall lift up the cup of salvation and call upon the name of the LORD. 14 I shall pay my vows to the LORD, Oh may it be in the presence of all His people. 
It is good for us to consider the reality that Jesus has removed death's sting, and the grave's victory. For the believer, to be absent from the body is to be present with the Lord (2 Cor 5:8).
Psalm 116:15 15 Precious in the sight of the LORD Is the death of His godly ones. 
Our arrival in God's presence is something highly esteemed and anticipated in the sight of the Lord.  Now, let's walk by faith in the reality of His presence mediated to us through the fellowship of the Word, the Spirit, and the body of Christ.
Psalm 116:17-19 17 To You I shall offer a sacrifice of thanksgiving, and call upon the name of the LORD. 18 I shall pay my vows to the LORD, Oh may it be in the presence of all His people, 19 In the courts of the LORD'S house, In the midst of you, O Jerusalem. Praise the LORD! 
TODAY'S READING FROM THE BOOK OF PROVERBS – PROVERBS 27:23-27
Proverbs 27:23-27 23 Know well the condition of your flocks, and pay attention to your herds; 24 For riches are not forever, nor does a crown endure to all generations. 25  When the grass disappears, the new growth is seen, And the herbs of the mountains are gathered in, 26  The lambs will be for your clothing, And the goats will bring the price of a field, 27  And there will be goats' milk enough for your food, For the food of your household, And sustenance for your maidens.
This is an important verse for pastors. But it applies to all of us. We need to know our business, and be faithful in it, for the glory of the Lord, working for eternal treasure. Riches here will perish. Those who care well for their flocks and are faithful to perform whatever their God-appointed service may be, doing it 'as unto the Lord', will have a lasting reward, in this life and the life to come. 
PRAY FOR THE NATIONS – TANZANIA
(from Prayercast.com and "Operation World Prayer Guide")
The Republic of Tanzania on the east coast of Africa has a strong sense of nationalism that has enabled its people to live peacefully for over 20 years. Historical and cultural factors, the dominant Swahili language, and a successful political plan for independence have contributed to its stability. Bordered by eight countries including Kenya to the north and Mozambique to the south, Tanzania has the highest peak in Africa, Mt. Kilimanjaro, and it shares three of Africa's largest lakes. The abundant wildlife in the Serengeti attracts many tourists as well.  The "spice islands" of the Zanzibar archipelago off the eastern coast brought a strong Arabic influence to Tanzania as the republic was formed in 1964.
Attempts to socialize the mostly agricultural economy after independence met with little success. With 80% of the workforce in farming and 85% of Tanzania's exports from agriculture, the economy suffered, and over one-third of the population now lives below the poverty line. Tanzania has one of the smallest industrial sectors in Africa with aging transportation, communication, and power infrastructures inhibiting growth as well.  HIV/AIDS and an influx of refugees fleeing conflicts in neighboring countries have both negatively impacted the economy.   Recovery is slow, but revenues continue to grow from gold mining and tourists visiting Tanzania's beautiful natural attractions.
Religious freedom is thought to be one of the motivating factors in Tanzania's peaceful history.  With over one half of the population Christian and one third Muslim (99 % in Zanzibar), actively religious communities have existed with little conflict.  This is changing with increased internal Muslim conflicts, which have also prompted conflicts with Christians. Witchcraft, the occult, and superstitious spiritual practices are becoming part of even the mainline religions.  Many churches lack the trained mature leaders needed to shepherd and teach sound Biblical truths – exposing syncretism and heresy – to both established and newly planted Christian communities.
PRAYER POINTS-
Pray for emphatic Biblical teaching in the churches that will, in turn, impact other spheres of society (i.e. poverty, witchcraft, radical Islam). 
Pray for trained, mature Christian leaders who will be able to evangelize the unreached in a predominantly rural nation. 
Pray for more effective Bible translation teams and initiatives.
 PRAYER:  Father, we are so grateful for the New Covenant made with Your Son who has fulfilled righteousness on our behalf. Thank You for adopting us and grafting us into the True Vine and thereby enabling us to bring forth eternal fruit for Your glory by the virtue of the life sap of the Holy Spirit.  We stand amazed at Your grace, for taking away our hearts of stone that had no capacity for righteousness, and giving us a new heart, a new life, the Indwelling Life of Your Son, Who by the Spirit of holiness, enables us to walk in Your Statutes and to Do them. May we not receive Your grace in vain. Help us to be doers of the Word, and not hearers only. In Jesus' Name. Amen.
Pastor David