NOVEMBER 16- TODAY'S READING FROM THE ONE YEAR BIBLE- Ezekiel 33:1-34:31
Hebrews 13:1-25; Psalm 115:1-18; Proverbs 27:21-22 
TODAY'S READING FROM THE OLD TESTAMENT- Ezekiel 33:1-34:31
We come today to a new section in the Book of Ezekiel. The prophet was commissioned with a vision of the glory of God in Chapters 1 to 3. He delivers messages of judgment against Judah in Chapters 4 to 24. In Chapters 25-33, he prophesies the judgments upon the nations. In Chapter 33, Ezekiel, as God's prophet, is calling the people to repent that they might live. This is the overall theme of Ezekiel's ministry. He is to sound the trumpet. He is to proclaim the Word of the Lord.
The Old Testament prophet is to be a watchman. His purpose is to hear the Word of God and see its significance. Then he is to proclaim it. If he is faithful to deliver the message, he has successfully discharged his responsibility. If he fails, he is accountable to God for the calamities overtaking those whom he failed to warn. He is to encourage the righteous not to turn away from righteousness. He is to encourage the wicked to turn away from wickedness that they might live.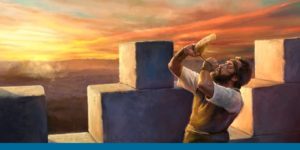 Ezekiel explains that people who do wicked things are responsible for their actions, but the wicked who repent will be forgiven.
Ezekiel 33:16 16 "None of his sins that he has committed will be remembered against him. He has practiced justice and righteousness; he shall surely live.
Yet the people are still unrepentant, despite the prophetic warnings.
The announcement is given in verse 21 that Jerusalem has fallen.
Ezekiel 33:21 21 Now in the twelfth year of our exile, on the fifth of the tenth month, (January 8, 585 B.C.) the refugees from Jerusalem came to me, saying, "The city has been taken."   (Ezekiel most likely was referring to the Babylonian calendar whereas Jeremiah followed a Hebrew calendar (Jer 39:2; 52:6-7,12; 2 Kings 25:1) which began the year in the fall. Otherwise, there would be an 18-month delay between the day of destruction and the announcement reaching Babylon.  By this way of calculating, the news would have been given 5 or 6 months after the fall of Jerusalem.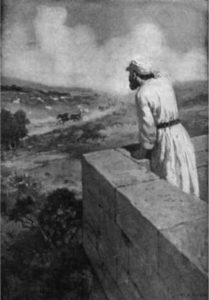 Ezekiel prophesies that the remnant who stayed behind in Jerusalem would not be immune from God's dealings. God would further discipline them with sword, wild beasts, plague, and famine (33:27).
The Lord reprimands those who pretend to listen to Ezekiel's words with interest and yet have no intention of putting them into practice. (33:31)
Ezekiel 33:32 32 "Behold, you are to them like a sensual song by one who has a beautiful voice and plays well on an instrument; for they hear your words, but they do not practice them".
Chapter 34 describes the false shepherds of Israel. This is a good chapter to read in conjunction with John 10 and Jesus' parable of the Good Shepherd. Jesus contrasts the character of the Good Shepherd with the false shepherds, whom he likens to disinterested hirelings.
The shepherds in Ezekiel 34 are described as selfish. They neglect to care for the flock. They feed and clothe themselves but leave the flock to the wolves. They do not strengthen the weak, heal the sick, or bind up the wounded sheep among them. They rule them harshly and brutally. The sheep without a shepherd scatter and become food for wild animals.
The Lord promises to bring the false shepherds to account:
Ezekiel 34:10 10 Thus says the Lord GOD, "Behold, I am against the shepherds, and I will demand My sheep from them and make them cease from feeding sheep. So, the shepherds will not feed themselves anymore, but I will deliver My flock from their mouth, so that they will not be food for them."
The Lord promises that He Himself would be the True Good Shepherd. He will come to seek the sheep that are lost and save them. He will bring them to Himself from the remote places to which they have been scattered.
"I will bring them into their own land…on the mountains of Israel."
We have a great foreshadowing of the ministry of the Good Shepherd, Jesus Christ, in these words:
Ezekiel 34:15-16 15 "I will feed My flock and I will lead them to rest," declares the Lord GOD. 16 "I will seek the lost, bring back the scattered, bind up the broken and strengthen the sick; but the fat and the strong I will destroy. I will feed them with judgment.
In verse 17, Ezekiel stops speaking to the shepherds of Israel and speaks to the flock. The coming Shepherd would not only be their rescuer but also their judge. He will judge between one sheep and another. He will judge those who are greedy for unjust gain. He will not allow His flock to be the prey of wild beasts.
The new shepherd will be known as 'my servant David'. This prophecy comes a long time after King David and is therefore referring to the Messiah, the promised Son of David.
The chapter describes the covenant of peace and the restoration of Edenic conditions in the future Messianic age. He affirms His covenant promise and pledges His shepherdly care. "I am your God. You are the sheep of my pasture."
TODAY'S READING FROM THE NEW TESTAMENT – Hebrews 13:1-25;
We come to the final chapter of this letter, a grand benediction that summarizes God's revelation about Himself in this letter (See Hebrews 13:20-21).
The God who spoke in times past to our fathers by the prophets has spoken fully and finally in the person of His Son (Hebrews 1:1). By His atoning death (His shed blood) and resurrection, the new eternal covenant has been inaugurated.  The God of peace offers us peace (13:20). This covenant gives us more than peace with God. We have the peace of God.  And best of all we have the God of peace Himself, the Prince of Peace. He transforms and rules our lives by the power of His Word and His Holy Spirit.
How superior is this covenant? It does what the old covenant could not do. It equips us with everything good for the accomplishment of His will. We can experience more than salvation's pardon; we can know salvation's power.  God works in us what is pleasing to Himself, through Jesus Christ, to whom be glory forever and ever!
Final pastoral instructions are given- Keep on loving. Keep on offering hospitality. Some of their number were suffering imprisonment. Visit them. True Christianity is counter-cultural. Honor marriage as God intended it. Steer clear of greed and covetousness. Don't be afraid of persecution. God will meet you in your hour of trial. He is the same yesterday, today, and forever. Study the example of godly leaders from the past, imitating their faith, and don't forget to obey your current leaders. They must give an account.
Hebrews 13:17 17 Obey your leaders and submit to them, for they keep watch over your souls as those who will give an account. Let them do this with joy and not with grief, for this would be unprofitable for you.
Do not be intimidated by the pseudo-spiritual and religious who fail to glory in Christ. Remember, we have an altar from which those who minister at the tabernacle have no right to eat. Jesus, the better priest, has given us a better priesthood.  We offer better sacrifices and minister them from the sanctuaries of our hearts- with our lips giving thanks to His Name (13:15).
The writer of the letter asks for prayer. Do we pray for those whom God has appointed to oversee the local churches? We are to pray that they discharge their ministerial duties honorably. Pray for the testimony of their lips and their lives. Pray for their protection and perseverance (13:18).
The writer considers his 13 chapters 'a brief letter'. It is 'a word of exhortation' (13:22). This means that the letter should not only be read but it should also be acted upon. What has the Letter of the Hebrews been exhorting you to do?
The writer shares the good news that Timothy has been released and that those from Italy send their greeting. (We don't know the details. I wish we did!)
TODAY'S READING FROM THE BOOK OF PSALMS- Psalm 115:1-18
Psalm 115:1 1 Not to us, O LORD, not to us, But to Your name give glory because of Your lovingkindness, because of Your truth.
It is believed that the hymn that Jesus sang after celebrating the Passover with His disciples on the night He was betrayed was the second half of Psalm 115.
Matthew 26:30 30 After singing a hymn, they went out to the Mount of Olives.
His people are to make His presence manifest.
Psalm 115:2 2 Why should the nations say, "Where, now, is their God?"
Jesus went to the cross with a worshipful heart, intent on glorifying the Name of the Father.  He trusted in the Father's will. He rested in the Father's goodness and His ultimate control.
This Psalm affirms God's sovereignty.
Psalm 115:3 3 But our God is in the heavens; He does whatever He pleases.
Verses 4 to 8 are a playful mockery of the idols of this world. They convey an image, but they are powerless. Those who make them and trust them, become like them. We become like what we worship.
The One True God is not powerless like the idols of the nations.
The song calls for the house of Israel to trust in the Lord- who is their help and shield.  They are to bless Him confidently, expecting that He will fulfill His promises. "He is mindful of us" (Psalm 115:12).
TODAY'S READING FROM THE BOOK OF PROVERB – Proverbs 27:21-22
Proverbs 27:21-22 21 The crucible is for silver and the furnace for gold, and each is tested by the praise accorded him. 22 Though you pound a fool in a mortar with a pestle along with crushed grain, yet his foolishness will not depart from him. 
Proverbs 27:21 reminds us that we are tested by how we handle success and praise as well as our foibles and failures. May we not be proved to be fools.
Verse 22 reminds us that fools do not recognize corrective discipline, even when it is extreme. Neither will they depart from their foolishness.
PRAY FOR THE NATIONS – TANZANIA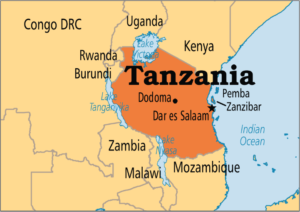 Tanzania
Republic of Tanzania
Africa
Geography
Area: 945,037 sq. km
Comprising mainland Tanganyika and the offshore islands of Zanzibar and Pemba (2,460 sq. km).
Population: 45,039,573    Annual Growth: 2.92%
Capital: Dodoma (official); Dar es Salaam (de facto)
Urbanites: 26.4%
HDI Rank: 151 of 182 (UN Human Development Reports 2009)
Peoples
Peoples: 160 (21% unreached) All peoples
Unreached Peoples Prayer Card
Official language: Swahili, English; 2% speak only Swahili and no local African language    Languages: 127 All languages
Religion
Largest Religion: Christian
Challenges for Prayer
Growth in the mainline Churches has been good but sporadic. Renewal movements in Lutheran, Anglican and Catholic churches bring life to traditional congregations; most of the bishops are evangelical. Some problems that limit further growth in numbers and spirituality are:
a) Extensive areas where churches have stagnated and where many potentially open villages remain unreached. The need is great for more evangelists and church planters.
b) African worship patterns, choirs and collections combined with Western cultural forms have taken priority over biblical teaching.
c) Swahili is used in fully 96% of church services even though it is not the heart language of the majority. Pray for the development of songs, teaching and resources in the first languages of all Tanzania's peoples.
d) AIDS continues to spread and affect many. It has now afflicted over 1.7 million (8.8% of the population) and orphaned over one million children. Tanzania's social fabric and economic structure are deeply affected. There are several initiatives led by religious and church communities for prevention, counselling and care. Pray for these programs to be followed through and to have a powerful positive impact.
The Pentecostal movement has flourished in the last 20 years and is the fastest growing segment of Christianity. Although the origins of many of these groups are foreign, good use of outreach tools combined with spiritual fervency have seen Pentecostalism grow and take root in Tanzanian culture. Pray for continued growth, increased maturity and unity between Pentecostals and other evangelicals – essential if the church is to impact Muslims and animists in the nation. 
PRAYER:  O Sovereign Lord, Great Shepherd of the Flock, and Judge of the Nations. We rightfully give You worship and praise. To You, and not to us, be all the glory. You have made us for Yourself, and we praise You for Your redeeming love that has granted us repentance and faith. Thank You for Your Shepherdly care, Lord Jesus. Thank you for putting us in families of sheep in your local churches. We pray for our brothers and sisters and especially for those You have appointed as leaders. May they discharge their responsibilities honorably. May your presence be manifested and Your Word proclaimed. In Jesus' Name. Amen.