FEBRUARY 29- READING THE ONE YEAR BIBLE – A DAY FOR RECOMMITMENT AND RECALIBRATION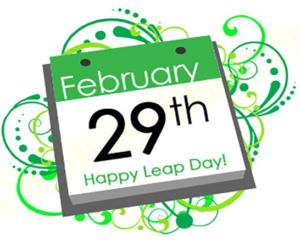 You will notice that there is no assigned reading in the One-Year-Bible today because today is a LEAP DAY. Every four years an extra day, February 29th, is added to the calendar year as a corrective measure because the earth does not orbit the sun in precisely 365 days.
Consider February 29 as a gracious provision for recommitment and recalibration in relationship to your goal of reading through the entire Bible this year.
According to my calculations, there was a sharp decline of people opening their "Daily One Year Bible Tour Guide" since February 7 when the Old Testament readings commenced with the introduction of the fine details of the tabernacle in Exodus 25. This disinterest is a common occurrence because the story line stops until it is picked up again in the Book of Numbers, which we start next week. But I assure you the prophetic pictures we have of the gospel of Jesus Christ in the construction of the tabernacle, the ordering of the priesthood, sacrifices and pictures of consecration to holiness are important if we are to more fully grasp the scope of what Christ has accomplished in His perfectly executed work of redemption.
So, I encourage you to use this day as a day to catch up on your Bible reading as necessary and spend some time prayerfully reflecting on what is being prefigured in the Old Testament and fully realized in the New!
Yours in Christ,
Pastor David