TODAY'S READING IN THE OLD TESTAMENT- GENESIS 42:18-43:34
BY THIS YOU WILL BE TESTED
Genesis tells the story of how Joseph becomes the savior of his people. His life story points to the greater Joseph, Jesus of Nazareth, who is the greater and truer Savior, the savior of the world (John 4:41; 1 John 4:14).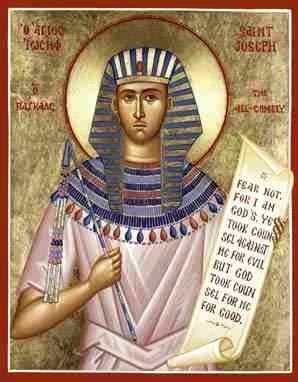 Notice the parallels between the lives of Joseph and Jesus: Joseph was the well beloved of his father, his status provoked the jealousy of his brothers and they wanted to kill him. He was sent by his father with a message for his brothers, but they despised him. He was stripped of his raiment and punished undeservedly and delivered, potentially, to death. He is sold for twenty pieces of silver. He is delivered into the hands of the Gentiles. He becomes a servant. He was tempted, yet without sinning. He was falsely accused. He makes no defense. He was led like a lamb to the slaughter. He was numbered with the transgressors. He would be the savior of one of them (the king's cupbearer) and the judge of the other (the king's baker). He correctly interprets history before it happens. He was exalted to the right hand of the Majesty on the Throne (Pharaoh). He is given a new name and a bride.
Joseph's brothers approached him because they need food. He recognizes them but they do not recognize him.
Many come to Jesus only because they have particular needs. They need bread. He can feed the multitudes, but He is much more than a Feeder. He is the Bread of Life. However, Jesus insists that those who come to Him must come on His terms and not their own (John 6:34-58).
Joseph makes clear the terms by which his brothers are to appeal to him. They are to be obedient to his demands if they expect him to save them. Otherwise they will never see his face again (Genesis 42:16). He has the ability to be their savior, but they must first recognize their sin, repent of their sin, recognize who Joseph is and receive his forgiveness.
Just as Jesus speaks of the need for genuine conversion saying that unless we repent we shall all perish (Luke 13:5, 24:47; Acts 17:30), Joseph knows his brothers need to come to a realization of their need for redemption and true reconciliation. They must recognize both their sin and their savior.
Joseph demonstrates God's wisdom and gives them the gift of repentance. At first, he gives his brothers some hard sayings. There must be some recognition of how their sin has grieved their father and how they still walk in darkness. When Joseph questions them, the brothers at first defend themselves as being "honest men" (Genesis 42:11). Yet they continue in their "cover up" story, boldly lying to the one they had beaten, bruised, abandoned to the pit, sold into slavery. Joseph makes the hard request that they go back to their father and bring their younger brother Benjamin with them to Egypt. Unless they do so they will never see Joseph's face again and their hope for salvation will be lost.
In Genesis 42:15, Joseph says, "by this you will be tested". We must be willing to prove that we love the light more than darkness by coming into the light.
Ephesians 5:13-14 (NASB) 13 But all things become visible when they are exposed by the light, for everything that becomes visible is light. 14 For this reason it says, "Awake, sleeper, and arise from the dead, And Christ will shine on you."
John 3:19 "This is the judgment, that the Light has come into the world, and men loved the darkness rather than the Light, for their deeds were evil.
Joseph needs to help his brothers to sorrow for their sin. They must recognize what their sin did to him. We need to see what our sins did to Jesus. It was our sins that put Jesus on the cross. "He was pierced through for our transgressions" (Isaiah 53:5).
Hebrews 12:7-10 (NASB) 7 It is for discipline that you endure; God deals with you as with sons; for what son is there whom his father does not discipline? 8 But if you are without discipline, of which all have become partakers, then you are illegitimate children and not sons. 9 Furthermore, we had earthly fathers to discipline us, and we respected them; shall we not much rather be subject to the Father of spirits, and live? 10 For they disciplined us for a short time as seemed best to them, but He disciplines us for our good, so that we may share His holiness.
Joseph puts his brothers into prison for three days, a small sample of what Joseph endured for many years ultimately at their hand.
2 Corinthians 7:9-10 (NASB) 9 I now rejoice, not that you were made sorrowful, but that you were made sorrowful to the point of repentance; for you were made sorrowful according to the will of God, so that you might not suffer loss in anything through us. 10 For the sorrow that is according to the will of God produces a repentance without regret, leading to salvation, but the sorrow of the world produces death.
Joseph revises his plan and determines to keep one in prison and the rest will return to their father with grain and bring their youngest brother, Benjamin, back to Egypt.
His brothers begin to feel convicted about their sin while they speak to one another in prison.
Genesis 42:21-22 (NASB)
21 Then they said to one another, "Truly we are guilty concerning our brother, because we saw the distress of his soul when he pleaded with us, yet we would not listen; therefore this distress has come upon us." 22 Reuben answered them, saying, "Did I not tell you, 'Do not sin against the boy'; and you would not listen? Now comes the reckoning for his blood."
Joseph tests their honesty further. He secretly places the money they had used to purchase the grain in Egypt back in their sacks. Would they appear to have taken something that had not been paid for? (In the end their food supply- their salvation- would be seen to be credited to them as a gift- all of grace).
When his brothers return to Jacob with the grain, they witness once again the grief their sin against Joseph has caused their father. Because of this grief their father is resistant to the idea of their taking Benjamin back with them to make their request for food from Joseph.
When the reality sets in that their food supply is running out and that they all are doomed to perish, Jacob relinquishes Benjamin, Judah having offered to take full responsibility for Benjamin's safety. They recognize that they can only approach the throne and receive grace to help in this time of need if they approach on the terms spelled out for them by Joseph (See Hebrews 4:15-16).
The stakes get higher when the brothers appear in Egypt as Joseph sets up a situation in which it looks like Benjamin has stolen his silver cup. This cup actually is the means of bringing forth a solid confession from the brothers.
When they hear that a cup has been stolen from Joseph's household, one of the brothers says "Far be it from your servants to do such a thing" as if their hearts were upright in all things! They add, "With whomever of your servants it is found, let him die and we also will be my lord's slaves."
Joseph says that only the man in whose possession the cup has been found shall be his slave. When the planted silver cup is found to be in Benjamin's sack, it causes untold grief among the brothers, and they must now make confession of their guilt and shame.
Genesis 44:16 (NASB) 16 So Judah said, "What can we say to my lord? What can we speak? And how can we justify ourselves? God has found out the iniquity of your servants; behold, we are my lord's slaves, both we and the one in whose possession the cup has been found."
Joseph is about to make himself known to his brothers as their Lord and Savior.
NEW TESTAMENT READING: Matthew 13:47-14:12 
Warren Wiersbe offers this clarification about the Herods of the New Testament that I thought would be a helpful complement to today's reading:
The Herod family looms large in the four Gospels and the Book of Acts, and it is easy to confuse the various rulers.
Herod the Great founded the dynasty and ruled from 37 B.C. to 4 B.C. He was not a true Jew by birth, but was an Edomite, a descendant of Esau. "He was… a heathen in practice, and a monster in character" (Unger's Bible Dictionary). He had nine wives (some say ten), and he thought nothing of slaying his own sons or wives if they got in the way of his plans. It was he who had the infants slain in Bethlehem (Matthew 2:13-1.8).
Herod Antipas, the Herod of this chapter, was a son of Herod the Great. His title was "tetrarch," which means "ruler over the fourth part of the kingdom." He ruled from 4 B.C. to 39 A.D. and his rule was deceptive and selfish. He loved luxury and was very ambitious to become a great ruler.
Herod Agrippa is the Herod who imprisoned Peter and killed James" (Acts 12). He was a grandson of Herod the Great.
Herod Agrippa II was the Herod who tried Paul (Acts 25:13ff). He was a son of Agrippa I.
All of the Herods had Edomite blood in them, and, like their ancestor Esau, they were hostile to the Jews (Gen. 25:19ff). They practiced the Jewish religion when it helped fulfill their plans for gaining more power and wealth.
Herod Antipas was guilty of gross sin: He had eloped with Herodias, the wife of his half- brother Philip I, divorcing his own wife and sending her back to her father, the king of Petra (Lev. 18:16; 20:21). Herod listened to the voice of temptation and plunged himself into terrible sin.
In Matthew 14 we recognize that Herod was warned by the following voices: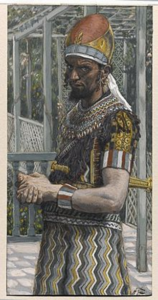 The voice of John the Baptist
Boldly, John the Baptist warned Herod and called him to repent. John knew that the sin of a ruler would only pollute the land and make it easier for others to sin, and that God would judge the sinners (Malachi 3:5). We must commend John for his courage in naming sin and denouncing it. Israel was God's covenant nation, and the sins of the rulers (even though they were unbelievers) would bring the chastening of God.
Instead of listening to God's servant and obeying God's Word, Herod arrested John and imprisoned him. John was put in the fortress of Machaerus, located about four miles east of the Dead Sea. It stood 3,500 feet above sea level on a rocky ridge that was accessible from only one side.
It was Herodias, Herod's wife, who held the grudge against John (see Mark 6:19); and she influenced her husband. She plotted to have her teenage daughter perform a lascivious dance at Herod's birthday feast. Herodias knew that her husband would succumb to her daughter's charms and make some rash promise to her. She also knew that Herod would want to "save face" before his friends and officials. The plot worked, and John the Baptist was slain.
The voice of conscience (vv. 1-2). When Herod heard of the marvelous works of Jesus, he was sure that John had been raised from the dead. His conscience was troubling him, and neither his wife nor his friends could console him. The voice of conscience is a powerful voice, and it can be the voice of God to those who will listen.
Instead of heeding his conscience, Herod determined to kill Jesus just as he had killed John. Some Pharisees (probably in on the plot) warned Jesus that Herod wanted to kill Him (Luke 13:31-32). But Jesus was not disturbed by the report. The word "fox" in Luke 13:32 is feminine. Jesus said, "Go, tell that vixen." Was He perhaps referring to Herodias, the real power behind the throne?
The voice of Jesus (Luke 23:6-11). When he finally did meet Jesus, Herod found that the Son of God was silent to him! Herod had silenced the voice of God! "Today, if you will hear His voice, harden not your hearts" (Heb. 3:7-8).
The voice of history. Herod should have known that he could not get away with his sin. History records that Herod lost prestige and power. His armies were defeated by the Arabs, and his appeals to be made a king (urged by his wife) were refused by Emperor Caligula. Herod was banished to Gaul (France) and then Spain, where he died.
Bible Exposition Commentary (BE Series) – New Testament – The Bible Exposition Commentary – New Testament, Volume 1.
TODAY'S READING IN THE BOOK OF PSALMS- PSALM 18:16-34
The Psalm of Deliverance continues. David sings of the Lord who delivered him from his enemy, King Saul. David's song becomes our song of deliverance as we too have been rescued from our enemies. We have been rescued from sin's penalty and are being delivered from sin's power.
We can sing the words of the hymn, "Amazing Grace"- "Through many dangers, toils and snares, we have already come. 'Tis grace that brought us safe this far and grace will lead us home!"
The Apostle Paul speaks of the deliverance of believers in both the past and future tenses:
2 Corinthians 1:9-10 Indeed, we had the sentence of death within ourselves so that we would not trust in ourselves, but in God who raises the dead; 10  who delivered us from so great a peril of death, and will deliver us, He on whom we have set our hope. And He will yet deliver us!
In Psalm 18:16-19 David speaks of his rescue– It comes from outside himself. It is sent from on high!
In Psalm 18:20-24 he speaks of his reward. He is rewarded on the basis of his righteousness; David's righteousness comes from outside himself, a righteousness that is not earned, but given as a gift. In Psalm 32 he will speak of the blessed condition of the man whose transgression is forgiven and to whom the Lord will not impute iniquity (Psalm 32:1-2). The gospel application is that we are rewarded because of the righteousness of a greater David, the Lord Jesus Christ, whom God has made to be for us our righteousness (1 Corinthians 1:30; 2 Corinthians 5:21; Jeremiah 23:6; 33:16) This righteousness is imputed to those who believe God's promise.
Psalm 18:25-27 teaches the principle of reciprocity. If we respond to God's compassion with compassion, we will find in our experience that God is even more compassionate towards us. Is it because we have experienced it that we are more likely to recognize it, show it, and grow in it? To the kind, He will show Himself to be kind. To the merciful, He will show Himself to be merciful. To the faithful, He will show Himself to be faithful. To the pure, He will show Himself to be pure. Those who recognize God's kindness will show kindness and recognize God's kindness towards them in greater degrees. Our attitude towards God has much to do with our receptivity.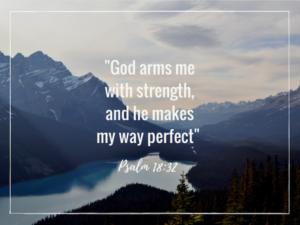 It works the other way also: to the man who is perverse, who crosses the purposes of God, he will find that God is working at cross purposes with him. It is important that we do not harden our hearts towards God.
Psalm 18:28 -34 spells out the various resources that God uses to bring about our deliverance:
His light (v. 28)
His strength (v. 29) -He enables us to excel in our abilities and overcome obstacles –
His ways which are blameless
His Word which is tried and true (pure) (v.30).
His presence which becomes our shield and refuge (v.30)
He dealings with us as He shapes us, fitting us for our tasks, equipping us and training us (v.34).
TODAY'S READING FROM THE BOOK OF PROVERBS- PROVERBS 4:7-10
Proverbs 4:7-10 7 "The beginning of wisdom is: Acquire wisdom; And with all your acquiring, get understanding. 8 "Prize her, and she will exalt you; She will honor you if you embrace her. 9 "She will place on your head a garland of grace; She will present you with a crown of beauty." 10 Hear, my son, and accept my sayings and the years of your life will be many.
PRAYER: Thank you Father for your faithful dealings in my life. Thank you for showing me my sin and my need for a Savior, Your Holy Son Jesus, by whose atoning death on the cross, I am delivered from the sentence of death. Thank You that You who have delivered me, will yet deliver me. Thank You for the sanctifying power of the Holy Spirit, the renewal of my mind through Your Holy Word, fellowship with believers, and Your faithful dealings in my life, that help me to grow in grace, battle temptation and pursue righteousness.
-Pastor David