TODAY'S READING FROM THE OLD TESTAMENT- I KINGS 19:1-21
This episode recorded in I Kings 19 reminds us that Elijah was human and, like the rest of us, at times given to fatigue, discouragement, and fear.
Elijah exerted a great amount of physical energy when he supervised the showdown with God and the prophets of Baal and Asherah on Mt. Carmel.
1 Kings 18:32-33 32  So with the stones he built an altar in the name of the LORD, and he made a trench around the altar, large enough to hold two measures of seed. 33  Then he arranged the wood and cut the ox in pieces and laid it on the wood.
He also climbed to the summit of Mt. Carmel at least two times (18:20, 42). The physical feats as well as the expenditure of spiritual and emotional energy must have left him exhausted.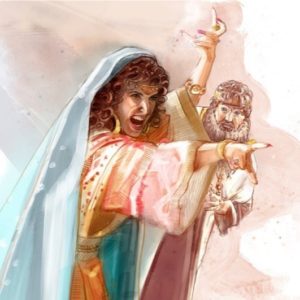 When Jezebel hears that her 850 state-sponsored false prophets have been killed by Elijah's command and her belief-system ridiculed, she is furious. Rather than repenting and turning to the "Lord who is God," she goes on a tirade. These prophets were on her payroll and ate at her table (1 Kings 18:19). They played an important part in her maintaining control. Now they were gone.
Jezebel vows to kill Elijah within 24 hours. So Elijah outruns the king's chariots all the way to Beersheba, approximately 100 miles south, and then goes a further day's journey into the wilderness.
Elijah sat down under a broom tree and prayed that he might die. Aren't you glad that the Lord does not answer every prayer we pray? Elijah was despondent, exhausted, and suicidal. He was experiencing a classic case of burn-out. Satan often takes advantage of even God's more astute servants after there has been a great expenditure of spiritual, mental, emotional, and physical energy.
Have you ever been so depressed that you had a secret death wish? This passage is instructive for all servants of God.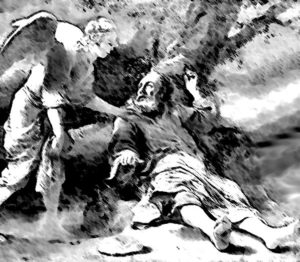 The Lord saw that Elijah got what he needed and it brought him out of a state of depression.
First, SLEEP (1 Kings 19:5).  He got physical rest. Secondly, FOOD (19:6a) In this case, it was 'angel food cake' baked over hot coals. Thirdly, WATER (19:6b). Elijah was probably severely dehydrated. This also affected his mood.
Replenishment does not happen in a single moment. Elijah ate, drank, and lay down again (19:6c).
Fourthly, he needed PERSPECTIVE AND A FRESH UNDERSTANDING OF THE IMPORTANCE OF OBEDIENCE TO GOD'S REVELATION (19:7-8). The Lord had more work for Elijah. HE WENT BACK TO WHAT HE KNEW TO BE MOST IMPORTANT- GOD'S SELF REVELATION. He journeyed to Mt. Horeb (Sinai), where God had revealed Himself and made a covenant with Moses and the children of Israel. Spiritual restoration demands that we be reminded of God's story and the doctrine He has already given- the faith once delivered to the saints.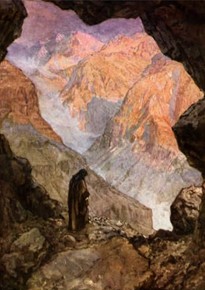 Fifthly, TRUST IN GOD'S GRACE- YOUR GOD-GIVEN MEAL- THE LORD IS THE STRENGTH OF YOUR LIFE. We dare not proceed in our own strength. Elijah would have a forty-day journey to Sinai, traveling approximately 420 road miles from Beersheba, averaging 10 miles a day. Most likely because of the intense heat, he would travel both during the cooler parts of the day and part of the night, avoiding the hot noonday sun. He then would climb the 7,000-foot jagged peak of Mt Horeb. He did this all with the strength of what the heavenly messenger gave him to feed on- the Bread he was given in the wilderness! Jesus said He is the bread of life (John 6:35)!
Sixthly, the Lord calls for SELF-EXAMINATION, fresh perspective on God's purpose. You will notice that the word of the Lord questions Elijah twice (1 Kings 19:9-10; 13-14). "What are you doing here, Elijah (the Lord is God)? What has the Lord said and is now saying? What has the Lord done and is now doing? What have you been doing? What are you doing now?
The Lord announces that he is about to pass by – this prefigures the upcoming event in God's history of redemption- the Incarnation of Christ when the Word will become flesh to be bruised for our iniquities. There is a series of manifestations that take place- wind, earthquake, and fire. However, the Lord was not in any of these outward manifestations. Elijah comes to realize God's presence and purpose do not reside in the outward manifestations, the winds of enthusiasms, the ground-shaking happenings, or the dramatic experiences of holy fire. Instead, the Lord's presence is found in the 'still, small (Strong's Concordance- 'crushed') voice'; the gentle whisper. It is the voice of 'crucified silence.'  It prophetically points to 'the word of the cross', the message of the finished work of Christ (1 Corinthians 1:18).
We need the perspective that only the Word of God can give. Elijah lived before the historic events of the cross of Christ, but the Word of God still ministered the realities that God's purposes were not centered on him but on Christ crucified (crushed) and risen.  
Elijah's depression was exacerbated by a faulty perspective that God's purposes were centered on what he was doing. Twice he expresses his overestimation of his importance. He had the misconception that he was the one man in Israel doing God's will, saying with self-pity, "I am the only one left, and now they are trying to kill me too" (19:10,14).
Finally, the Lord RECOMMISSIONS Elijah. Our despondency is often healed as we recognize that God has a work for us to do. He has given us tasks to accomplish. Elijah was instructed to anoint three individuals. He was to anoint Hazael, the king of Aram (Syria), Israel's enemy. Hazael was anointed to be God's instrument to bring judgment on Israel for their unfaithfulness. Elijah was also to anoint Jehu to be king of Israel as another means of bringing judgment upon the people. Then, he was to anoint Elisha to be his successor as prophet. Each one of these anointed ones would be instruments in God's hands to deal with the unrepentant.
Elijah's calling and commissioning of Elisha foreshadows Christ calling His followers to discipleship (See Luke 9:57-62).
When called by God to follow Elijah, Elisha goes home to conclude his past life. He burns his 12 yokes of oxen and gives the meat to the hungry. After burning these bridges to his past life, he then sets out to follow Elijah and become his attendant.
TODAY'S READING FROM THE NEW TESTAMENT – ACTS 12:1-23
The persecution in Jerusalem intensifies. King Herod has James, the brother of John, the son of Zebedee, put to death with the sword.  We learn that Herod was politically motivated, and seeing that it pleased the general populace to persecute the Christians, he also sought to have Peter killed.  He arrested Peter when all the Jews were gathering in Jerusalem to celebrate the Passover. Peter was put in jail to be brought to trial after the Passover.
"BUT THE CHURCH WAS EARNESTLY PRAYING FOR PETER" (Acts 12:5).
An angel appears in Peter's cell with a great light. The angel commands Peter to wake up, get up, put on his outer garments, and follow him out of the prison. His chains just fell off! Peter miraculously passes the guards and the iron prison gates open before him. This is the second supernatural jail-break recorded in the Book of Acts (Acts 5:18-20).
Peter appears at the house of Mary, the mother of Mark, where the church is having a prayer meeting. A servant girl named Rhoda answers the door, and when she realizes it is Peter, she leaves him standing outside as she excitedly runs inside to tell the prayer meeting that Peter is at the door. The Prayer Meeting disbelieves her, calling her crazy. 
Eventually, the gathered Christians let Peter in, and he reports all that the Lord has done. Then, he instructs them to tell "James and the brothers" about this. Apparently, Peter recognized James as a leader of the Jerusalem church (12:17).
This miraculous deliverance brought some hefty repercussions. Herod ordered that the prison guards on duty at the time of Peter's escape be executed.
Herod travels from Jerusalem in Judea to Caesarea. There he gives a speech and is struck dead "because Herod did not give praise to God" (12:23)
TODAY'S READING FROM THE BOOK OF PSALMS- PSALM 136:1-26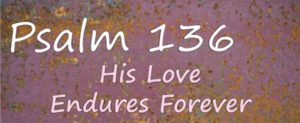 Give thanks to the Lord for He is good- HIS LOVE ENDURES FOREVER!
Why is the phrase repeated throughout the Psalm, "His love endures forever"?  It most likely was to be read responsively, with the people responding antiphonally to the list of the wonderful things that God has done.
The word for 'love' here is sometimes translated, 'loving kindness' or 'mercy.' It is the Hebrew word 'chesed', referring to God's covenant love. God is faithful to honor what He has committed Himself to- the perfect work of His Son, the Lord Jesus Christ. This gives us assurance of His steadfast love, His mercy, and loving kindness.
God is praised for Who He is (Psalm 136:1-3) and what He does (v 4f). He is praised for His works of creation (v. 5-9), His works of redemption (v.10-22,) and His merciful provisions (v.23-26). 
TODAY'S READING FROM THE BOOK OF PROVERBS- PROVERBS 17:14-15
Proverbs 17:14-15 14  The beginning of strife is like letting out water, So abandon the quarrel before it breaks out. 15  He who justifies the wicked and he who condemns the righteous, Both of them alike are an abomination to the LORD.
Do you know what it is to have the Holy Spirit bridle your tongue? Can you let unnecessary provocations slide and deal with differences in a civil manner?
God does not tolerate injustice. It is unjust to condemn the righteous. It is unjust to justify the wicked. God's nature is so pure that He cannot justify what is not justifiable. This clarifies that it was God's initiative to do what no man could do- to become our substitute and take our condemnation that we might be justified as righteous.
2 Corinthians 5:21 21  He made Him who knew no sin to be sin on our behalf, so that we might become the righteousness of God in Him. 
PRAY FOR THE NATIONS- ICELAND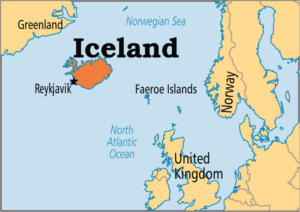 Iceland
Republic of Iceland
Europe 
Geography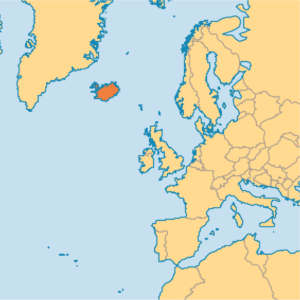 Area: 103,000 sq km
A volcanic island in the North Atlantic; mountainous, largely barren with many large glaciers.
Population: 329,279    Annual Growth: 2.17%
Capital: Reykjavik
Urbanites: 92.3%
HDI Rank: 3 of 182 (UN Human Development Reports 2009)
Peoples
Official language: Icelandic    Languages: 2 All languages
Religion
Largest Religion: Christian
| | | | |
| --- | --- | --- | --- |
| Religion |                 | Pop % | Ann Gr |
| | 298,327 | 90.60 | 1.2 |
| | 12,641 | 3.8 | 2.6 |
Challenges for Prayer
The Bible Society launched in 2000 a new Bible translation, which was well received. The 2007 release of The 100-Minute Bible in Icelandic resulted in many acquiring Bibles. Pray that many would come back into contact with the transforming Word of God.
Christian Radio. Radio Lindin, which can reach about 90% of the population, remains on air and is a blessing to believers. And it has been used to bring some unbelievers to faith. It is also available via the Internet. 
PRAYER: Lord, You are the Good Shepherd. You restore my soul. Thank You for Your provisions to anoint, bless, strengthen and replenish me by the power of the Holy Spirit. You have provided a perfect rest, Bread from heaven, the water of Life. I continue to feast on You as my supply, my source of life.  You remember my frame that my body is of the dust (Psalm 103:14), and I need to be replenished, recharged, and renewed day by day. You are the source and the strength of my life.  Thank You for reminding me that I am here on the earth for a purpose and that my times are in Your hands. Give me fresh perspective and a fresh commissioning for Your glory and the good of others! In Jesus Name!
Pastor David