TODAY'S READING FROM THE OLD TESTAMENT- 2 SAMUEL 19:11-20:13
Although David was from the tribe of Judah, apparently, the elders of Judah aligned themselves with Absalom's rebellion. It is hard for people to swallow their pride when they discover they have backed the wrong man. This may explain why the tribe of Judah was hesitant to invite David back.
David showed his political savvy by making Amasa, the former commander of Absalom's army, his new commander, securing the allegiance of the rebel army.
King David starts back to Jerusalem. When he arrives at the Jordan River, it seems that all Judah has had a change of heart and are ready to receive David as their King. David pardons Shemei, the man who cursed him when David was leaving Jerusalem. He expresses a contrite spirit as he asks David for forgiveness.
2 Samuel 19:20 20 "For your servant knows that I have sinned; therefore behold, I have come today, the first of all the house of Joseph to go down to meet my lord the king."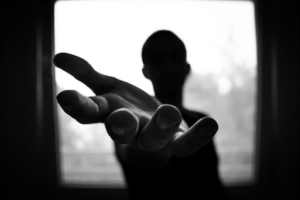 Shemei demonstrates repentance by admitting he has sinned against the king, pleading for mercy while recognizing that the king had every right to punish him.
Abishai calls for Shemei's death, but David intercedes.
2 Samuel 19:22 22 David then said, "What have I to do with you, O sons of Zeruiah, that you should this day be an adversary to me? Should any man be put to death in Israel today? For do I not know that I am king over Israel today?"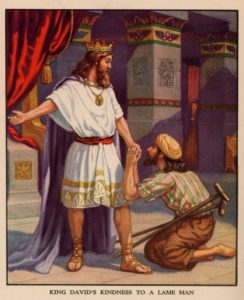 Next, David meets Mephibosheth. You may recall that Ziba, a servant of King Saul, had slandered Mephibosheth by reporting that Mephibosheth had been disloyal, refused to follow David, and was a participant in Absalom's rebellion. Mephibosheth knows that he should only expect death and that David will make a decision that would be pleasing to God (2 Samuel 19:27).
David decides that Ziba and Mephibosheth should divide the land equally between them.
Mephibosheth reflects a heart that recognizes that restored fellowship is more valuable than any earthly treasure.
2 Samuel 19:30 30 Mephibosheth said to the king, "Let him even take it all, since my lord the king has come safely to his own house."
Next, we meet Barzillai again. He is now eighty and is undoubtedly feeling his age. David wants to return his kindness for supplying him with provisions when he was in need.  David invites him to return with him and to stay in Jerusalem. There he promises to meet his every need.  Barzillai replies that he believes he would be a burden to David. He opts to go to his hometown to retire. But he commends his friend Chimham to receive the good that David had purposed for Barzillai.
We can see some jealousies among the tribes as each tries to lay claim to the King and the privilege of ferrying him across the Jordan and accompanying him back to Jerusalem. David welcomes the repentant members from Judah but alienates some from the other tribes. Sheba, a hothead from Benjamin, is rejecting David, saying, "He's not our king!"
2 Samuel 20:1 1  Now a worthless fellow happened to be there whose name was Sheba, the son of Bichri, a Benjamite; and he blew the trumpet and said, "We have no portion in David, Nor do we have inheritance in the son of Jesse; Every man to his tents, O Israel!"
So all except Judah and Benjamin deserted David and followed Sheba! O the fickleness of the human heart!
When David returns to Jerusalem, he banishes his ten wives to seclusion. He would care for their needs but would no longer sleep with them.
The king orders Amasa to summon the army within three days to attack Sheba. Amasa is too slow, so David orders Abishai and Joab to go after Sheba with an elite guard and the king's own bodyguard.
When they arrive at the great stone of Gibeon, Joab and his brother Abishai meet Amasa and his troops. Joab steps forward to greet Amasa, whom David had appointed as leader of the army. Joab pretends to welcome Amasa with a kiss, pulling Amasa's beard to the side as he secretly slips a dagger into Amasa's belly.  Joab and Abishai left him there in a pool of blood in the middle of the road.
One of Joab's men shouts out to Amasa's troops, "If you are for David, follow Joab." Those in the army of Amasa now join Joab and Abishai and go on their way to capture Sheba.
TODAY'S READING FROM THE NEW TESTAMENT – JOHN 21:1-25
Peter, who denied Jesus three times, is given three opportunities to confess his allegiance and love to Christ in John Chapter 21.
After seeing the Lord Jesus raised from the dead, Peter returns to his familiar pastime of fishing. Maybe he needed cash. Perhaps he was confused. The other disciples join him. And as had happened before, they fished all night and caught nothing.
They hear a man call out from the shore, "Cast your net on the right side of the boat."  They did so and received a miraculous catch of 153 fish. Unlike the previous miraculous catch of fish (Luke 5),  they could not draw the net in, and the nets did not break.
John recognizes that the mysterious man on the shore is the Lord. Peter dives into the water and swims enthusiastically to shore. The men bring in the boat and meet Jesus, who already has a fire going and has provided His own fish to feed them with. And bread. Jesus serves them all that He has.
After breakfast, Jesus asks Peter three times, "Peter do you really love me?"  The first two times Jesus uses the Greek word, 'agape,' value love in his question. Peter responds, "Lord, you know that I love you, using the word 'phileo', which means 'the love of mutuality.' In each instance, Jesus challenges Peter to show His love for God by taking care of His people. Feed my sheep, lambkins, and lambs, acknowledging the different kinds of people to care for.
Jesus also lets Peter know that the sacrificial value love that he will have in the future will be demonstrated in the way he dies. "When you are old, you will stretch out your hands and others will direct you and take you where you don't want to go." It is a picture of being fully surrendered. John lets us know that it is a picture of the kind of death that Peter would have as a martyr who will glorify God.
Peter asks Jesus about John's future. Jesus says that we are not to be occupied with the destinies of others but only to follow Him.
John concludes the gospel, reminding the reader that he was an eyewitness of these things.
John 21:24-25 24 This is the disciple who is testifying to these things and wrote these things, and we know that his testimony is true. 25 And there are also many other things which Jesus did, which if they *were written in detail, I suppose that even the world itself *would not contain the books that *would be written. 
TODAY'S READING FROM THE BOOK OF PSALMS- PSALM 120:1-7
After reading Psalm 119 with its 176 verses, Psalm 120 with its 7 verses seems quite short!
Psalms 120-134 are known as 'The Songs of Ascent' or 'Pilgrim Psalms.' The Jewish communities sing these as they made their three annual pilgrimages to Jerusalem to worship at the temple. No matter from what direction you are coming, you are going upwards in elevation when you travel to Jerusalem. Each psalm is a 'step up' in the journey. Psalm 120 begins the journey in a distant land in hostile surroundings.
In Psalm 122, the arrival of pilgrims in Jerusalem is pictured. The remaining Psalms (123-134) describe the approach to the temple, citing the various characteristics of God.
It is likely that they were sung together and explains their short length. Two of them only have three verses.
This Psalm is about a man who was prevented from attending the feast and had to stay home among people who made life difficult for him.
This Psalm reminds us that we have enemies without and within. They can easily distract us from wholehearted worship.
We are also reminded Who we are to turn to when we need deliverance.  There is the internal enemy at work in our own thought life, and speech (verse 2). Yes, there are those in the world who speak evil against us, but there is a world of evil in our own tongues (See James 3:6), and it will incur judgment (James 3:1; Psalm 120:3).
Psalm 120:7 7 I am for peace, but when I speak, they are for war.
As ambassadors for Christ, how can we be victorious peacemakers in the midst of a world system antagonistic to the Prince of Peace?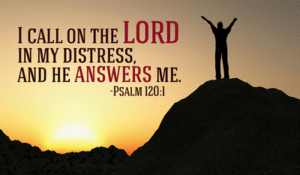 The Psalmist advocates prayer ("In my trouble, I cried to the Lord," verse 1). He encourages us to trust in what the Lord has given us (verse 4) of the armor of God to protect us from the sharp arrows of the enemy.
The big idea is that the Psalmist is motivated to have his soul depart from living in unbelief in the company of influences that oppose God's rule.
TODAY'S READING FROM THE BOOK OF PROVERBS- PROV 16:16-17
Proverbs 16:16-17 16 How much better it is to get wisdom than gold! And to get understanding is to be chosen above silver. 17 The highway of the upright is to depart from evil; He who watches his way preserves his life.
What is the Lord teaching you? Do you value His instruction? Do you maintain a healthy 'self watch?  It can save your life.
1 Timothy 4:16 16 Pay close attention to yourself and to your teaching; persevere in these things, for as you do this you will ensure salvation both for yourself and for those who hear you.
PRAY FOR THE NATIONS – GHANA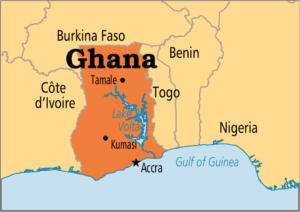 Ghana
Republic of Ghana
Africa
Geography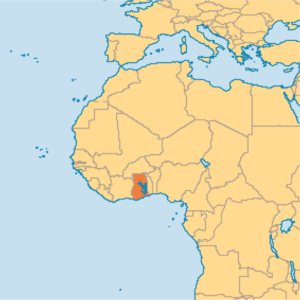 Area: 238,533 sq. km
Grasslands in the north, farmland, and forest in the south. Centre dominated by the 520-km-long Lake Volta, Africa's largest man-made lake.
Population: 24,332,755    Annual Growth: 2.11%
Capital: Accra
Urbanites: 51.5%
HDI Rank: 152 of 182 (UN Human Development Reports 2009)
Peoples
Peoples: 109 (18% unreached) 
Official language: English    Languages: 84
Religion
Largest Religion: Christian
| | | | |
| --- | --- | --- | --- |
| Religion |                 | Pop % | Ann Gr |
| | 15,426,967 | 63.40 | 2.2 |
| | 5,879,102 | 24.2 | 4.5 |
Answer to Prayer
Evangelism among the unreached, especially the northern peoples (in the north, and northern migrants in the south), is increasing as indigenous churches adopt the challenge of the unevangelized in their midst and send missionaries of their own. The Ghana Evangelism Committee was instrumental in catalyzing this movement.
Challenge for Prayer
Mature Christian leaders remain at a premium. As churches multiply, biblical faith is challenged, and doctrines become confused. Compared with some other countries, however, Ghana is blessed by the number of training institutions. Among the many schools are Christian Service University College in Kumasi started by WEC, Maranatha University College (SIM), Ghana Christian University College, and Good News Theological College & Seminary. There are over 30 other accredited denominational and interdenominational Bible schools as well as a range of TEE and lay training programs run by different denominations and agencies, including a growing number in the AICs.
PRAYER: Lord, we will sing of Your mercies. We know we are not deserving Your kindnesses, but You have lavished them upon us in Christ Jesus. We thank You for the new covenant of grace. We praise You for reconciling us to Yourself in the person of Your Son, who has given us a standing in Your presence, a hope, and a future. We love Your Word and the testimonies of Your bountiful dealings with those whom You call into a relationship with Yourself.  Keep us alert to opportunities to show kindness to others. Help us to overcome evil with good. We love You and want to demonstrate that by caring for Your flock today. In Jesus' Name. Amen.