TODAY'S READING FROM THE OLD TESTAMENT- 2 KINGS 8:1-9:13
This is a tumultuous time of history.  Both the Northern kingdom of Israel and the southern kingdom have departed from worshiping the one true God and are setting the false gods before them, particularly Baal. Jeroboam, Omri and Ahab led the northern kingdom of Israel into idolatry. Jezebel influenced her husband, King Ahab, into making Baal worship the established religion of the north.  Jehoshaphat's son, King Jehoram of Judah, married Ahab's daughter, bringing Baal worship to the south.
God would send the wrathful judgment of seven years of famine to the land. The day of judgment had arrived for Ahab's dynasty, as predicted by Elijah in 1 Kings 21:21, 29.
1 Kings 21:21 21 "Behold, I will bring evil upon you, and will utterly sweep you away, and will cut off from Ahab every male, both bond and free in Israel."
Elijah also predicted that this judgment would be delayed until the reign of Ahab's son, Joram.1 Kings 21:29 29 "Do you see how Ahab has humbled himself before Me? Because he has humbled himself before Me, I will not bring the evil in his days, but I will bring the evil upon his house in his son's days."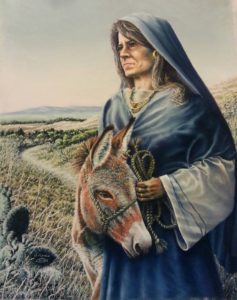 Throughout the Bible we see examples of God's providence. The word 'providence' comes from two Latin words, 'pro' (before) and 'video' (to see), and combined they form the attribute of 'seeing ahead'. Yet we see that God not only knows the future, but He sovereignly arranges events in the future for His purposes without interfering with human being's responsibility for their own choices and consequences. We see His goodness in providing for the Shunamite in Chapter 8.
The Shunammite woman is told by the prophet Elisha to escape the imminent seven-year famine that he prophesied would be sent by God upon the land of Israel.  Seven years later, she returns to her homeland to discover that her property has been taken by strangers and she has been robbed of the produce of her fields. There is no mention of her husband, so we infer that now she is widowed. As she goes to the king to make her plea for justice, the King just happens to be hearing Gehazi speak of Elisha having had performed a miracle of raising a Shunamite's son from death to life. Gehazi points out the approaching woman as being the very mother whom he is speaking about. The king appoints an official to rectify the wrong that had been done to the widow (2 Kings 8:6).
Elisha once again is able to deliver the mind of the Lord about events in the future. When the King of Syria, Ben-hadad, is ill, Hazael, inquires of Elisha as to whether or not he will recover. Elisha instructs Hazael to tell him that Ben-hadad will recover from this illness, but that the Lord has shown him that he will certainly die. Ben-hadad would not die of the illness, but would be murdered by Hazael.  Elisha weeps when he thinks of all that Hazael will do. He will suffocate King Be-hadad. He will do terrible things to the people of Israel. Yet Elijah had been told to anoint Hazael as King of Syria and Jehu as King of Israel. Elijah did not get to do this before God took him up. Elisha would have to complete this unfinished business. These kings and their actions would be instruments in God's hands to bring judgment on Israel and Judah and rid the land of Baal worship.
Elisha sends a prophet to privately anoint Jehu, as King of Israel. This would make him the only king of the northern kingdom to be anointed by God. He is given the assignment to rid Israel of the house of Ahab and the worship of Baal.
Jehu lets his officers know that he is the Lord's anointed king of Israel. They quickly respond, paying him homage by sounding the trumpet and proclaiming that "Jehu is king".
TODAY'S READING FROM THE NEW TESTAMENT – Acts 16:16-40
Paul, Silas, and Timothy see significant conversions in Philippi. First, Lydia and her household (Acts 16:13-15), then the demonized fortune teller (v.16-21), and after their deliverance from their shackles by earthquake, the Philippian jailer and his household, are saved (v. 22-34).
These accounts demonstrate the work of God in conversion. The Lord is at work in the preparation of the heart, the proclamation of the Word, and the power of transformation as the hearers are granted the gift of repentance and faith.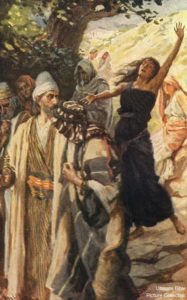 We also see the power of the enemy at work, opposing the gospel, instigating persecution, distorting and controlling the mind, and in the account of the fortune teller, bringing deception and oppression. At first the demons speak through her a truth, "These men are bondservants of the Most High God, who are proclaiming to you the way of salvation" (Acts 16:17). Demons recognize God's position, but do not submit to God's person. Satan covets God's position and power. Satan also distorts what true salvation means. The Biblical view of salvation is deliverance from the wrath of God against sin. It is deliverance from sin's penalty and power. It is also deliverance from Satan's domain.
Why did the demons get involved by praising these men of God? This woman is inspired to distract and discredit the apostles' ministry. She was drawing attention to herself through her shrieking and giving unwelcome and inappropriate publicity to the ministry team.
Paul discerns that the woman has a spirit of divination, literally 'a python' spirit. Priestesses from Delphi were called 'pythons' because they were plugged into Apollo whose other name was 'Pythias'.
This girl, then, was one of the thousands of priestesses who served in the occult practice in the worship of Apollo. Some say they were ventriloquists. Luke does not commit either way. The fact was she was demonized and needed to be delivered.
Paul was aware of what he was dealing with, knew that there would be a disturbance, and so he waited for the right moment to cast out the evil spirit. He does so resting completely on the merits of the One who has all power and authority, Jesus of Nazareth.
The effect of the slave girl's deliverance is immediate. She is free. She no longer functions as an oracle speaking for the devil. Her occultic skills come to naught. The hopes that her owners had of making money off her demonic powers had come to an end. So, they took Paul and Silas to face the authorities in the marketplace. The crowd joins in on the attack and order that they be stripped, flogged, severely beaten and imprisoned with their feet fastened in stocks.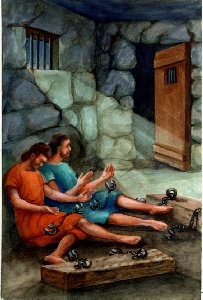 At midnight, Paul and Silas are singing praises to God in the hearing of all the prisoners. Suddenly there is an earthquake and everybody's chains are loosed and the prison doors fly open.  When the jailer wakes up to see this, he is ready to kill himself, knowing that he would be held accountable for this jailbreak. Paul cries out, "Don't harm yourself. We are all here." Rather than fleeing, the prisoners knew that they were experiencing an act of God.
As the jailer calls for light, he also asks the all-important question, "Sirs, what must I do to be saved."
Paul and Silas answer, "Believe in the Lord Jesus, and you will be saved- you and your household", implying that this deliverance will be experience by all who hear the Word and obey its commands to repent of sin and believe the gospel.
The jailer takes Paul and Silas to his home to treat their wounds, clean them up, serve them a midnight meal, and hold a baptism service. He brings them back to the jail in time for the magistrates to officially grant their release.
However, Paul reminds the arresting officers of his Roman citizenship and the fact that he was unlawfully imprisoned. Paul and Silas are quickly escorted from the prison, and request that they leave the city.
They do this, but first stop in with Lydia to encourage the saints in Philippi before they go. 
TODAY'S READING FROM THE BOOK OF PSALMS- PSALMS 143:1-12
This is another prayer for relief. He admits his failure and the fact that all are sinners in need of mercy.
Psalm 143:2 2 And do not enter into judgment with Your servant, For in Your sight no man living is righteous.
He confesses that he is hounded by the enemy, pressed into a state of darkness, and as a result is emotionally wasted.
He decides to meditate upon God's works and reflect upon His faithfulness in the past.
He is eager to get a word from the Lord and to know His presence. Listen to his prayer request:
Psalm 143:8-10 8  Let me hear Your lovingkindness in the morning; For I trust in You; Teach me the way in which I should walk; For to You I lift up my soul. 9 Deliver me, O LORD, from my enemies; I take refuge in You. 10 Teach me to do Your will, For You are my God; Let Your good Spirit lead me on level ground.
He concludes the psalm with a request for preservation, deliverance, and the destruction of the enemies of his soul.
Psalm 143:8 8 Let me hear Your lovingkindness in the morning; For I trust in You; Teach me the way in which I should walk; For to You I lift up my soul. 
TODAY'S READING FROM THE BOOK OF PROVERBS- PROVERBS 17:26
Proverbs 17:26 26 It is also not good to fine the righteous, nor to strike the noble for their uprightness.
This is a warning against those who would miscarry justice.
 PRAYER: Heavenly Father, You know all things. Thank You for Your providential care. You work together in all things for the good of Your purposes. Leave us not to ourselves, but awaken us to Your perfect will and give us the grace to perform it. We thank You for Your Anointed One, that You have made Your Son, Jesus Christ, head over all things to the church. We gladly submit to His rule. Your grace teaches us to deny all ungodliness and destroy every idol that our heart manufactures. We echo the prayer request of the Psalmist, 'Teach us the way in which we should walk." In Jesus' Name. Amen.