TODAY'S READING FROM THE OLD TESTAMENT- 1 Kings 2:1-3:3.
King David gives his final charge to his son, Solomon, before he dies.
He accepts his mortality. "I am going the way of all the earth." He admonishes Solomon to be ready to lead in his absence. Most importantly, he is to walk according to what is written in the Law of God. Apart from obedience to His ways, His statutes, His commandments, His ordinances, and His testimonies, Solomon cannot succeed.
This promise of a continued dynasty is conditioned upon his faithfulness to the Lord and the faithfulness of his descendants.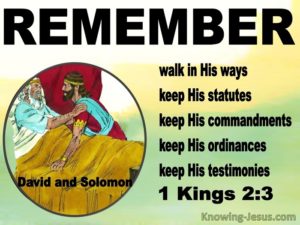 1 Kings 2:3-4 3  "Keep the charge of the LORD your God, to walk in His ways, to keep His statutes, His commandments, His ordinances, and His testimonies, according to what is written in the Law of Moses, that you may succeed in all that you do and wherever you turn, 4  so that the LORD may carry out His promise which He spoke concerning me, saying, 'If your sons are careful of their way, to walk before Me in truth with all their heart and with all their soul, you shall not lack a man on the throne of Israel.'
We know that Solomon and future generations would fail to keep their part of the bargain, but that Jesus, the root and offspring of Jesse, the Greater and Truer David and Son of David, will fulfill the conditions of the Davidic covenant and His rule will be established forever.
David lets Solomon know that he has some unfinished business with his nephew, the renegade commander who shed the blood of Abner, Absalom and Amasa. He asks to Solomon to deal with him according to his wisdom, yet not to let him off too easily. Hold him accountable.
He reminds Solomon to continue to reward Barzillai for his loyalty with kindness. He also reminds him to be sure to punish Shemei if he violates the terms of his probation, which was never to leave Jerusalem. Three years after David's death, Shemei leaves Jerusalem for Gath to search for his runaway slaves. 1 Kings 2:39-46). Barzillai implements Solomon's orders and kills Shemei.
David dies having reigned as King for forty years (33 over the united kingdom in Jerusalem and 7 and a half years over Israel in Hebron).
Adonijah, makes a request to marry David's concubine, Abishag, the Shunammite. Rather than make the request directly to Solomon, Adonijah asks Bathsheba to intercede. He is convinced that Solomon would not refuse her (1 Kings 2:17). This shows the cultural understanding of the influence that a mother would have over her son. Some suggest that this understanding is what prompts some to mistakenly attribute mediatorial powers of Mary over Jesus. Yet the Scripture makes clear:
1 Timothy 2:5 5 For there is one God, and one mediator also between God and men, the man Christ Jesus,
According to the culture of that day, to have relations with one of the King's women would be equivalent to laying claim to the throne. Regardless of Adonijah's intentions or Abishag's virginity, Solomon took his request as insubordination and called for his death. Benaiah obeys Solomon's orders and kills his older brother, Adonijah.
Abiathar, who had conspired with Adonijah during his attempt to usurp the throne, is removed from his priesthood and sentenced by Solomon to live in his hometown of Anatoth. The now defrocked Abiathar is the last in the line of Eli to serve as priest, fulfilling the prophesy given about the house of Eli.
With the loose ends from the previous rebellions (Absalom and Adonijah) and delayed punishments of Joab, Abiathar and Shemei dealt with, the kingdom is firmly established in Solomon's hands (1 Kings 2:46).
In 1 Kings Chapter 4, Solomon forms an alliance with Egypt by marrying the Pharaoh's daughter.
Solomon married royal princesses to secure political relationships with other countries. It was thought to be a means of securing peace. However, the Law of Moses forbade this practice, explicitly stating that kings should not multiply wives, implying that if kings are forbidden to do it, so are their subjects. Polygamy undermined what God intended to reflect in marriage of a covenant commitment of fidelity between one woman and one man, mirroring the commitment of the church to Christ and Christ to His church (Eph 5:25-33; 2 Cor 11:2).
1 Kings 3:3 3 Now Solomon loved the LORD, walking in the statutes of his father David, except he sacrificed and burned incense on the high places.
Sacrifices were only to be made according to the ways prescribed in the Law. This would prevent people worshiping the gods of their imagination in the ways of their imagination, rather than recognizing what God has revealed about Himself in Scripture. These stipulations were to prevent pagan practices and alternative methods of worship from infiltrating God's covenant community. Worship was to take place as God prescribed and in God's appointed places.
Deuteronomy 12:12-13 12  "And you shall rejoice before the LORD your God, you and your sons and daughters, your male and female servants, and the Levite who is within your gates, since he has no portion or inheritance with you. 13 "Be careful that you do not offer your burnt offerings in every cultic place you see,  
Solomon and others began to make sacrifices on the high places. There the offerings would not be made under the careful watch of the priests.
TODAY'S READING FROM THE NEW TESTAMENT – ACTS 5:1-42
The Holy Spirit brought judgment on the sins of Ananias and Sapphira because these sins are particularly destructive to the church- dishonesty, greed, and covetousness. Their sin was not that they did not give all the money from the sale of their property. Their sin was that they were dishonest in their representation to the church. They wanted to appear more generous than they actually were.
The Holy Spirit is the Spirit of truth. The fruit of His indwelling presence is love and all its attributes, including generosity and contentment with their allotment. Christ, the head of the church, was actively safeguarding His testimony in the church, through the discipline of the Holy Spirit.
A healthy fear of the Lord came upon the children of Israel in their first days after they crossed the Jordan, because God brought swift judgment on Achan and his household due to his disobedience. Trouble was brought upon the children of Israel, causing the nation to suffer defeat, because of this man's transgression. Sin was in the camp. Likewise, God clearly established His testimony of holiness from the earliest days of the church by bringing swift judgment on the sin of Ananias and Sapphira.
The Apostles did miracles in Jesus' Name, and large gatherings took place in Solomon's colonnade. Despite their popularity, "none dared to associate with them", joining them in church membership, probably because of the serious testimony of holiness and potential persecution (Acts 5:13).
Jealousy provokes the high priest and his Sadducee associates to have the apostles arrested and jailed. An angel breaks open the prison doors and releases the apostles with this commission: "Go, stand and speak to the people in the temple the whole message of this Life" (Acts 5:20).
The apostles waste no time. At daybreak they are back in the temple courts preaching Christ. Soon the religious authorities realize that their prisoners have escaped, even though the cell had been guarded and doors securely locked.
The captain of the temple guard finds the apostles and bring them before the Sanhedrin. The religious authorities testify that the apostles "have filled Jerusalem with their teaching". Why have they disobeyed the gag order?
They reply,
Acts 5:29 29  But Peter and the apostles answered, "We must obey God rather than men."
Peter uses the opportunity to preach the truth about Jesus Christ before the same body of people who had plotted to kill him. Peter affirms not only the facts of the death and resurrection of Jesus, but the purpose that He might give repentance and forgiveness of sins to Israel. He also lets them know that God the Holy Spirit is empowering the witness of the church.
Acts 5:32 32 "And we are witnesses of these things; and so is the Holy Spirit, whom God has given to those who obey Him."
The religious authorities are furious and want to put the apostles to death, but they are eventually calmed down by the highly respected Pharisee, Gamaliel, the instructor of Saul of Tarsus (soon to be the Apostle Paul).
Gamaliel gives this noncommittal assessment and advises them to leave the apostles alone:
Acts 5:38-39 38  "So in the present case, I say to you, stay away from these men and let them alone, for if this plan or action is of men, it will be overthrown; 39  but if it is of God, you will not be able to overthrow them; or else you may even be found fighting against God."
They flog Peter and John before releasing them. Once again, the leaders order them not to preach in the name of Jesus.
The apostles leave rejoicing, not in their suffering, but rejoicing that they were counted worthy to suffer. Their affliction was brutal. The pain they felt was not lessened because they were Christians. Peter and John did not emerge from this experience as pictures of those who were in perfect health. But the spirit of glory was upon them. They were comforted to know that Jesus had suffered in the same way, and now they were understanding the meaning of their sufferings.
Campbell Morgan writes,
"It was by His stripes that they had been healed. And now the result of their witness to Him, the witness of their words, and of their lives, had brought them into actual participation in like sufferings, through which His redeeming power and purpose were served. Herein lay the high honor of the dishonor. Such suffering was the highest seal of the approval of Him Who had crowned their Lord with glory and honor that He might taste death for every man. That they also were so, in measure, crowned, was surely a justifiable reason for rejoicing. When the Cross is really endured, the shame is despised, and it becomes reason for joy." (Searchlights from the Word, p.327)
TODAY'S READING FROM THE BOOK OF PSALMS- PSALM 125:1-5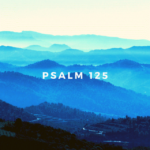 Another step is taken in the Song of Ascents. They are going up to Jerusalem, to Mount Zion. Their eyes have been lifted to the hills, to the mountains and now to the Lord. It is a song of confidence (v. 1-2), a promise (v.3), followed by a prayer (v.4), and a word of warning (v.5).
Their faith in the Lord is rock solid because the Lord is their solid rock! He eternally encompasses them with His care.
Psalm 125:1-2 1 Those who trust in the LORD Are as Mount Zion, which cannot be moved but abides forever.
They know that the Lord alone is their hope and their peace. May God's peace be upon Israel. 
TODAY'S READING FROM THE BOOK OF PROVERBS- PROVERBS 16:25
Proverbs 16:25 25 There is a way which seems right to a man, but its end is the way of death.
This is a reminder that we are so easily deceived by our own estimations. How important it is that we hear God's Word and obey it.
PRAY FOR THE NATIONS
Greenland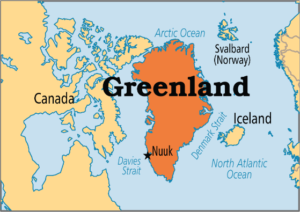 Kalallit Nunaat
North America
Geography
Area: 2,175,600 sq. km
Land area is 85% glacial ice cap. The world's largest island and with the lowest population density of any country.
Population: 57,291    Annual Growth: 0.04%
Capital: Nuuk
Urbanites: 84.2%
Peoples
Official language: Inuktitut (Greenlandic), which has three distinct    
Religion
Largest Religion: Christian
| | | | |
| --- | --- | --- | --- |
| Religion |                 | Pop % | Ann Gr |
| | 55,320 | 96.56 | 0.0 |
| | 2,664 | 4.7 | 8.4 |
Challenges for Prayer
Greenland has been Christianized, but not converted. Nearly every settlement has its Lutheran church building – but too many lack real spiritual life. Pray for renewal and new life for Dane and Greenlander alike. The tightly knit communities of Greenland could easily be impacted powerfully by a move of God.
Named the land of the "midnight sun", Greenland, the world's northernmost nation, experiences weeks of 24-hour daylight or night every year. The world's largest island, Greenland is located northeast of Canada, is in a subarctic environment, and claims the polar bear as a national symbol. The frosty island is sparsely populated with a majority Inuit and a minority Danish population. The Inuit culture, known for its strong family ties and communal sharing, plays a large role in the national identity.
The first Europeans to settle in Greenland were the Norse, though the settlements did not last, and Greenland was claimed in 1605 by King Christian IV of Denmark. The island remains a self-governing administrative division of Denmark to this day, after achieving limited self-government in 1979 and additional self-rule in 2008. Denmark controls the foreign affairs, security, and financial policy yet Greenland has its own set of laws and legislature. The nation's economy relies on the export of shrimp and fish, mining, and also subsidies from the Danish government. Tourism is a growing economic sector.
Christianity first arrived on the island in 1000 with the Norse explorer Leif Eriksson, and it remains the predominant religion today (97%). While some traditional Inuit beliefs continue, there is an Evangelical Lutheran Church in nearly every settlement. There is still much room for renewal, though. Modernity has unleashed many sinful results on Greenland, including immorality, sexual abuse, alcoholism, mental illness, and suicide. Yet the Church is equipping itself to deal with these issues, and Christians, through the work of the Holy Spirit, are rising up to address the challenge. The Church is also making efforts to evangelize the indigenous populations in a culturally appropriate manner, and with the opening of airstrips, more remote communities are reachable.
Grenada
Grenada
Caribbean
Geography
Area: 345 sq. km
One larger island north of Trinidad and some of the Grenadine islets south of St Vincent. The most southerly of the Windward Islands in the West Indies.
Population: 104,342    Annual Growth: 0.36%
Capital: St. George's
Urbanites: 31%
HDI Rank: 74 of 182 (UN Human Development Reports 2009)
Peoples
Official language: English, but a distinct Grenadian dialect thereof is much more common    Languages: 3 All languages
Religion
Largest Religion: Christian
| | | | |
| --- | --- | --- | --- |
| Religion |                 | Pop % | Ann Gr |
| | 97,768 | 93.70 | -0.4 |
| | 20,447 | 19.6 | 0.7 |
Challenges for Prayer
Christianity in Grenada accounts for the vast majority, but most are nominally Catholic because of the earlier French legacy. However, several mainline, conservative and emerging denominations enjoy a healthy existence. Points for prayer include:
a)Unity among denominations.The mainline denominations enjoy strong connections through the Conference of Churches of Grenada. Evangelicals are taking steps toward greater unity and cooperation through a recently formed Evangelical Alliance. Pray that such unity would be genuine and effective rather than superficial.
b)Moral and family decline,even in evangelical congregations. Sexual promiscuity and teen pregnancies are widespread; around 45% of households are led by women, with men absent (often abroad in search of employment).
c)Lack of vision in churches.There is very little missionary vision or evangelistic impetus, although there are signs of improvement in this area.
d)Support ministries.There are two Christian bookstores, one in St. George's run by the Berean Bible Churches, and an independent one in Grand Anse. Radio ministry includes Good News FM broadcast from Grenada and Harbor Light, a Christian radio station that broadcasts on AM and FM to Grenada and the Windward Islands. Churches consider the six Christian and church-run schools to be important ministries.
PRAYER: Lord, Your Kingdom is everlasting, righteous, and pure. We are grateful to be Your children and loyal citizens through Jesus Christ, our Lord. May we be bold witnesses in the power of your Spirit, using every opportunity to testify of our Savior and His provision for the forgiveness of sins. Help us to proclaim all the words of THIS LIFE we have found in Him. We ask that we would see Your kingdom purposes advanced today. In Jesus' Name. Amen.