TODAY'S READING FROM THE OLD TESTAMENT- 2 SAMUEL 13:1-39
In the introduction of today's story of Ammon's lustful rape of his half-sister Tamar, Absalom's name is mentioned (2 Samuel 13:1). This is because the next section of 2 Samuel, Chapters 13 to 19, tells the story of Absalom's attempt to usurp the throne of his father, David.
Tamar was Absalom's sister. They both were noted for their physical beauty (13:1; 14:25). Their mother was Maacah, a royal princess whom David married from the house of Talmai, in Geshur, most likely to make peace with the small Aramean kingdom near the Sea of Galilee. The fact that Absalom had both a royal father and mother, most likely inspired his ambition to be king in place of his father.
The virgin princesses were kept secluded in their own quarters, separated from their male relatives, so in many ways, Tamar, even though a half-sister, was not well known to Ammon. The sight of Tamar fueled Ammon's lust and he desired to have her. He confused lust with love. Ammon should have known better than to entertain an abnormal desire for his half-sister. True love will always seek the best for another, and would not violate their body or cause them to disobey the law of God. The Law of God gives standards for sexual purity forbidding intimate relationships with next of kin (Deuteronomy 27:22; Leviticus 18:9-11).
Ammon was David's oldest son, heir to the throne, and perhaps he thought with his royal privilege he could get away with his sin. After all, his father, King David, seemed to get away with his adultery and murder.
Jonadab, Ammon's cousin, the son of David's brother Shammah (Shimeah), proves that he is no real friend by suggesting that Ammon deceive his father and sister into believing that he is sick and needs Tamar's personal and private attention. This sets up the situation in which Ammon forcibly rapes Tamar. After the act, Ammon's lust turns to hatred. He sends her away. He despises her, possibly because she reminds him of his own shame.
This puts Tamar in a dreadful situation. Because she had lost her virginity, she could no longer return to the apartments of the virgin princesses and was no longer a desirable candidate for marriage. Who would take her in?
Her brother, Absalom, hears of this and is outraged. He provides a place for Tamar in his house and tells her to be quiet. She most likely wanted to tell the king, but Absalom tells her to wait. Most likely he is thinking of how he could take revenge and kill Ammon and put himself into the position of being next in line to the throne. He discourages her from taking immediate action, saying, "He is your brother". Absalom was trying to avoid a public scandal that would hinder his attempt to seize the throne.
King David became angry when he heard about this but does not deal with the situation or speak with Amnon. Neither does Absalom (13:22-23). They go underground with their anger and hatred. We see a pattern of continual dysfunction within the family.
Tamar has been wronged. As Tamar exclaimed, "Amnon has done a disgraceful thing!" Where can she go with her shame? (2 Samuel 13:13)
Tragically, all her relatives fail her. Tamar was defiled and cast off by a son of David. The True Son of David, the Lord Jesus Christ, would come to bear her shame. On the cross He took sin's defilement, reproach, and punishment. He does not fail us. He was cast off for us. He embraces our suffering. God "made Him who knew no sin, to be sin on our behalf, so that we might become the righteousness of God in Him" (2 Corinthians 5:21).
No one should suffer the abuse that Tamar suffered. In this 'Genesis 3 world', all are vulnerable. May we never be indifferent, or silent, when we witness abuse. David's inaction should spur us to action. David's silence should spur us to speak. Our sin, like Amnon's sin, is uncalled for. Both Amnon and Absalom put self-interest ahead of a selfless concern for their sister. This story makes us thankful that in Jesus we have 'a friend who sticks closer than a brother', a true 'brother who is born for adversity' (Proverb 18:24; 17:17).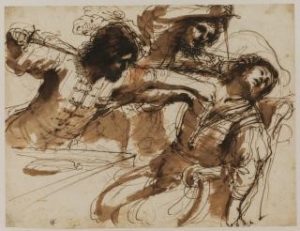 Two years later, Absalom, seeking revenge, invites his family to join his father, David, for the sheep-shearing celebrations. David turns down the invitation but sends his sons, including Amnon.
Absalom orders his men to strike down Amnon when he is in high spirits from drinking wine at the feast. When they kill Amnon, the other brothers flee for their lives.
A rumor reaches David that Absalom had killed all his sons. David and all his servants tear their clothes in grief. Jonadab, the one who concocted Amnon's scheme to violate Tamar, tells David not to be concerned about the report, clarifying, "Only Amnon is dead."
Absalom flees to Geshur and stays there for three years. David and his other surviving sons grieve. Eventually David comes out of mourning and longs to go to Absalom. 
TODAY'S READING FROM THE NEW TESTAMENT – JOHN 17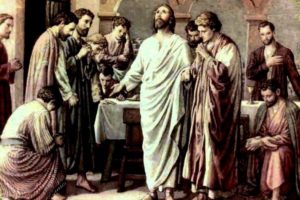 This is the Lord's prayer. It is Jesus' high priestly prayer made before He goes to the altar of the cross to offer His sinless life as a perfect atoning sacrifice for our sins.
As Jesus concludes the Passover meal and his discourse in the Upper Room (John 14-16), his disciples are witnesses to this remarkable prayer. It is the longest prayer which our Lord offered during His public ministry. Matthew Henry writes, "It is the most remarkable prayer followed by the most full and consoling discourse ever uttered on earth."
There are petitions here that could be offered by none other than the perfect mediator between God and man, the God-man, Jesus Christ (1 Timothy 2:5).
In John 17, the veil is turned aside, and we go with the High Priest into the Holiest of All. On the ground of His perfect work of redemption, Jesus makes His request for the full benefit of His glorification to come upon the church.
The word 'glory' is used eight times in this prayer. Jesus lived to glorify His Father while in His incarnate state. In this prayer, Jesus asks that His pre-incarnate glory be restored.
Jesus recognizes that in His hour, His appointed time, He will have finished the work that He came to do.
John 17:4 4 "I glorified You on the earth, having accomplished the work which You have given Me to do.
His work included His miracles and teachings (John 5:17-19), revealing the nature and power of God as the Messiah, training the disciples for future service, and most importantly, accomplishing the work of redemption by His sacrifice on the cross (Hebrew 10:12-18).
Based on the finished work of Christ, we can have eternal life. Jesus laid down His life that we might have life. He defines life:
John 17:3 3 "This is eternal life, that they may know You, the only true God, and Jesus Christ whom You have sent.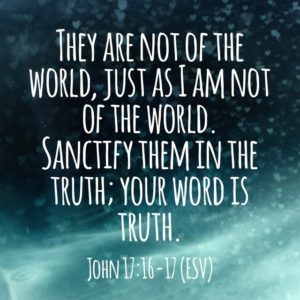 It is not enough to know about Jesus. What He did on the cross was to make it possible for us to be born again and know God personally. Eternal life is a gift that we receive when we admit that we are sinners, repent of our sin, and believe on Jesus Christ and His atoning work on the cross for our sins. In Christ alone, our hope is found!
The word 'Father' is used 122 times in the gospel of John; 53 times in this episode with the disciples on the Passover (John 13-17).
We learn more about the work of Christ through reading this prayer. Jesus revealed the nature (THE NAME) of God the Father. He is praying for all those who will come to trust on His saving work (John 17:20). These are the 'elect of God'. These are the ones the Father has given to the Son for His purposes, and the Son gives back those whom He was keeping to the Father. He prays also for all those down through the centuries that will believe on the gospel. We learn of His preserving power: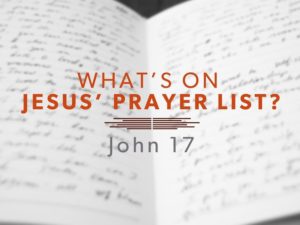 John 17:12 12  "While I was with them, I was keeping them in Your name which You have given Me; and I guarded them and not one of them perished but the son of perdition, so that the Scripture would be fulfilled.
We also learn that it is God's plan to sanctify the elect through the ministry of the Word (John 17:15-17).
His prayer is that all believers would recognize and exhibit what they miraculously have in common- the life of Christ, that they may be one in fellowship with the Godhead, just as Jesus is one with the Father and the Spirit. This manifestation of God's life in a loving community of oneness is the greatest apologetic, the greatest demonstration of the veracity of the gospel (John 17:23).
Jesus describes the intended outcome of the cross:
John 17:26 … that the love with which You loved Me may be in them, and I in them."
He who died for us, rose from the dead to live in us. He thereby multiplies through us the love the Father has for His perfect, beloved Son.
TODAY'S READING FROM THE BOOK OF PSALMS- PSALM 119: 81-96
The next section of eight verses (119:81-89) beginning with the Hebrew letter, Kaph, highlight the fact that those who love and obey God's Word are often despised and persecuted by those who don't.
Psalm 119:86 86 All Your commandments are faithful; They have persecuted me with a lie; help me! 
The "Lamedh' section (Psalm 119:89-96) highlights the enduring nature and preserving power of God's Word. Because God's Word is eternal, it is eternally relevant.
Psalm 119:89 89 Forever, O LORD, Your word is settled in heaven. 
TODAY'S READING FROM THE BOOK OF PROVERBS: PROVERBS 16:6-7
Proverbs 16:6-7 6 By lovingkindness and truth iniquity is atoned for, and by the fear of the LORD one keeps away from evil. 7 When a man's ways are pleasing to the LORD, He makes even his enemies to be at peace with him. 
PRAY FOR THE NATIONS
The Gambia
The Republic of The Gambia
Africa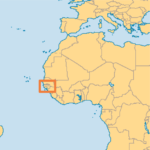 Geography
Area: 10,689 sq. km
A narrow, 400-km-long riverine enclave that virtually divides Senegal's Casamance from the rest of the country.
Population: 1,750,732    Annual Growth: 2.78%
Capital: Banjul
Urbanites: 58.1%
HDI Rank: 168 of 182 (UN Human Development Reports 2009)
Peoples
Peoples: 32 (44% unreached) All peoples
Unreached Peoples Prayer Card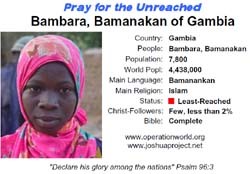 Official language: English    Languages: 23 All languages
Religion
Largest Religion: Muslim
| | | | |
| --- | --- | --- | --- |
| Religion |                 | Pop % | Ann Gr |
| | 78,433 | 4.48 | 3.6 |
| | 13,351 | 0.8 | 8.9 |
| Muslim | 1,566,730 | 89.49 | |
Challenges for Prayer
Missionary work was pioneered by Anglicans and Methodists and mostly confined to the Aku (Creole-speaking descendants of freed slaves in Banjul). Nominalism is a challenge in most denominations, although the ministries of the above and of the Mennonites have had a valuable impact in development, education and medical work, especially among the Jola and Manjako. Many newer ministries from Nigeria, Sierra Leone, Ghana, Liberia and Cameroon have recently started. These have greatly added to the harvest force and the vitality of church and mission efforts. In all cases, the nominal Christian population receives much more spiritual attention than the unreached Muslim majority. Pray for effective ministry of expatriate Christian groups in demonstrating the good news. Pray also for nominal Christians to discover a genuine life in Jesus.
The Gambian evangelical Church is small, and committed believers are few. Active Christians are usually overstretched in their ministries; the need is great for discipleship and leadership training. Many pastors work in the Greater Banjul area, but few feel called to go into the hinterland, where there is less development and few amenities; financial support is difficult to maintain for those who are willing. Pray for Gambians to have a vision to reach their own people; pray for wisdom in knowing how to support those who do move into more isolated areas. Pray that the indigenous Church might be set free by the Holy Spirit from the restraints of fear and lack of confidence; pray that Christians might minister powerfully and effectively to their fellow Gambians. 
PRAYER: Lord, teach us what is on Your heart. Thank you for the gift of eternal life – that we may know You. We rely on Your Spirit and Your Word to teach us and direct us. Help us to truly love our brothers and sisters and not become accomplices in their sins. Help us to deal with situations Biblically, and not cover up, excuse, or condone habitual sin. We thank You, Lord Jesus, that You are the Priest who made a once and for all perfect sacrifice to remove our guilt and that You ever live to make intercession for us. We want to pray what is on Your prayer list and to hold dear the things that you hold dear.
We pray for the evangelical church in The Gambia, that they would break free from any nominalism or lethargy. Draw the lost to Your Son, Father, and may the ministry of the gospel be fruitful there and around the world.
In Jesus' Name,
Pastor David