TODAY'S READING FROM THE OLD TESTAMENT- EZEKIEL 3:16- 6:14; 
The Commissioning of Ezekiel, the priest turned prophet, continues. The Lord says to Ezekiel: "I have made you a watchman for the house of Israel". A watchman was a city employee who is given the responsibility of looking out from a high vantage point on the city wall or tower, and give warning to the inhabitants of any imminent danger approaching.
The prophet must speak out loudly and clearly of the impending judgment for the rebellious sinner. If the prophet fails to warn and call the wicked to repentance, the prophet will be held accountable and share in the guilt of the unrepentant. The blood of the transgressor shall be on his account.
The prophet is not just to warn the rebellious and call them to turn to God, he is to warn those that are currently in a right relationship with God, and warn them not to turn away from Him. If the prophet fails to warn the righteous and the righteous turns to sin, the prophet will be held accountable and share the guilt.
This is a reminder of the importance that we must speak out and give both the warning as well as the promise of the gospel.  Do we hear any warnings today? "It is appointed for men once to die and after that comes the judgment."
Ezekiel will warn: "the soul who sins shall die" (Ezekiel 18:4b). The wages of sin is death (the warning) but the free gift of God is eternal life in Christ Jesus (the promise) (Romans 6:23).
Ezekiel is called to get up on his feet once again and move to the plain for further instruction (3:22). The glory of the Lord is now appearing once again, and Ezekiel is given stage directions for a series of dramas he is to perform for the people in exile.
We will find out as we read through the Book that Ezekiel is doing this for one purpose. Some 60 times in the Book of Ezekiel God speaks the phrase, "that they may know that I am the Lord". Ezekiel is making it clear that God is behind their sufferings and that His people have forgotten who He is. They need to know the true God.
The first drama he is to act out is in his home, and it will illustrate the intransigence of God's people. Even though God had chosen Israel to be His household, His dwelling place, communication had broken down. God was not listened to or obeyed, therefore they no longer had ears to hear what God would say through His mouthpiece, the prophet.  Ezekiel is to go to his home, be bound there with ropes, and then God would make him mute, so he can speak no more to the rebellious house of Israel.
Ezekiel 3:26-27 26 And I will make your tongue cling to the roof of your mouth, so that you shall be mute and unable to reprove them, for they are a rebellious house. 27 But when I speak with you, I will open your mouth, and you shall say to them, 'Thus says the Lord GOD.' He who will hear, let him hear; and he who will refuse to hear, let him refuse, for they are a rebellious house.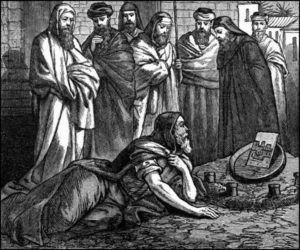 In Chapter 4, Ezekiel is told to stage another drama. First, he is to construct the scenery. He draws the city of Jerusalem on a clay tablet and uses it to indicate the setting for his performance. He builds a replica of the city wall with ramps and battering rams around it to indicate the siege warfare coming against the city.  Then he is to take an iron pan and use it to represent an iron wall between himself and the city, and he is to turn his head towards it.
Whereas Ezekiel Chapters 1 and 2 read like a script for a Stephen Spielberg science fiction film, this incident in Chapter 4 reads like the stage directions for a Samuel Beckett theater piece. He creatively communicates Israel's history of rebellion.
Ezekiel is told to lie on his left side for 390 days with the sin of Israel place upon him. The Lord interprets the action as representing the 390 years of their sin. This is Act 1.
After he finishes this, Act 2 begins. Ezekiel is to lie down on his right side for 40 days. Each day would represent a year. He is to prophesy to the city surrounded with ramps and battering rams and say, with bared arm, "I will tie you with ropes so that you cannot turn from one side to the other until you have finished the days of your siege."
He then is to make 'Ezekiel bread' with wheat, barley, beans, lentils millet and spelt. This is to be his diet during the 390 days he is lying on his left side. He is to weigh out 20 shekels of food and a sixth of a hin of water and drink it at set times, baking the cake over a fire fueled by human excrement.
Interpretation: Ezekiel 4:13 13 And the LORD said, "Thus shall the people of Israel eat their bread unclean, among the nations where I will drive them."
Ezekiel's response makes us think of Simon Peter's response in Acts 10. He puts together two phrases that don't belong together: "Not so" and "Sovereign Lord" (See Acts 10:14).
The Lord makes an adjustment to the script at Ezekiel's request. He kindly substitutes cow manure for human excrement (Ezek 4:15). (I imagine none of this would be going over well with the prop department).
Interpretation: Ezekiel 4:16-17 16 Moreover, he said to me, "Son of man, behold, I will break the supply of bread in Jerusalem. They shall eat bread by weight and with anxiety, and they shall drink water by measure and in dismay. 17 I will do this that they may lack bread and water, and look at one another in dismay, and rot away because of their punishment.
There is a follow-up scene in Ezekiel Chapter 5. This one involves hair and make-up.  Ezekiel is told to shave his head and beard. When the days of the siege drama are over (the first two acts of the drama), Ezekiel is to burn a third of the shaved hair with fire inside the city. He then is to take a third of the hair and strike it with the sword all around the city. And then he is to scatter the final third of the hair to the wind.
"But take a few strands of hair and tuck it into the folds of your garment. Take a few of these and burn them in a fire from which the fire will spread to all the house of Israel."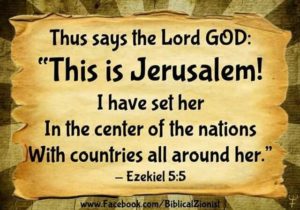 Interpretation: Ezekiel 5:5-6 5 "Thus says the Lord GOD: This is Jerusalem. I have set her in the center of the nations, with countries all around her. 6 And she has rebelled against my rules by doing wickedness more than the nations, and against my statutes more than the countries all around her; for they have rejected my rules and have not walked in my statutes.
Ezekiel 5:12 12  A third part of you shall die of pestilence and be consumed with famine in your midst; a third part shall fall by the sword all around you; and a third part I will scatter to all the winds and will unsheathe the sword after them.
God's anger will cease when His righteous anger against sin is avenged by the punishment righteously put upon His people (Ezek 5:13), yet His people will be an object lesson to the surrounding nations (5:14).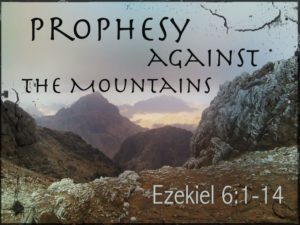 In chapter 6, Ezekiel is told to prophesy against the mountains of Israel, announcing the destruction that is about to come upon them, as they contain the high places with their altars to false gods.
God commands that Ezekiel use prophetic actions to express His grief over the spiritual adultery of His people: Strike your hands together, stamp your feet, and cry out "Alas!", an exclamation of lamentation for the evil practices of Israel. God will bring judgment with the imminent strike with sword, famine, and plague. and the stamping out of idolatry in the high places.
Notice the final refrain in our reading contains the chorus we will hear throughout the Book of Ezekiel: "Then they will know that I am the LORD."
Ezekiel 6:14 14 And I will stretch out my hand against them and make the land desolate and waste, in all their dwelling places, from the wilderness to Riblah. Then they will know that I am the LORD."
 TODAY'S READING FROM THE NEW TESTAMENT – HEBREWS 4:1-16
God has promised a rest for His people. The word 'rest' carries with it, not just the idea of repose or physical replenishment, but deep satisfaction. God rested on the seventh day because He was satisfied with His work of creation. It was all sufficient. He needed to add nothing to it. We know that God can rest in the perfect work of His Son and all that He accomplished of our redemption. It was perfect. When Jesus died on the cross, He shouted 'Paid in full', 'It is finished', 'It is a completion'. God verified His deep satisfaction by raising Jesus from the dead.
The only rest we can find is the one that Jesus provided. We enter into that rest by faith.
There is no other way. If we look to our own brand of self-justifying works, we will never know that we have what provides God full satisfaction. In giving us Christ, God is giving to us perfect rest.
Without faith in Christ there is no entering into God's promised rest. Faith is simply believing the truth about Who God is and what He has done in the person of His Son. Genuine faith will be expressed in obedience- that is- clinging to the gospel and not going back into states of unbelief, or self-reliance. The unbelief, expressed through the disobedience of the ten spies who trusting in their own understanding, led to 38 more years of wandering in the wilderness until their deaths.  Only Joshua and Caleb who believed God's Word, entered into the promised land, and that promised land was just an inadequate foreshadowing, a 'type', of the real rest that is to come. God can rest only in that which is in accordance with His holy nature- Christ. Likewise, our rest can only be found there.
How do we enter in? We enter in by simply trusting in God's Word. He sees all and He knows all (Hebrews 4:12-13). His Word is perfect, and His promises can be trusted.
We can have confidence that Jesus is the perfect high priest who knows our frame, our temptations, our needs and has secured our access to the Father so we can have the mercy, grace and help that we need.
Hebrews 4:14-16 14 Since then we have a great high priest who has passed through the heavens, Jesus, the Son of God, let us hold fast our confession. 15 For we do not have a high priest who is unable to sympathize with our weaknesses, but one who in every respect has been tempted as we are, yet without sin. 16 Let us then with confidence draw near to the throne of grace, that we may receive mercy and find grace to help in time of need. 
TODAY'S READING FROM THE BOOK OF PSALMS- PSALM 104:24-35
The Psalmist continues to remind himself of God's greatness. God's greatness is on display in all of His works. In His wisdom, He provides all that His creation needs.
Psalm 104:28 28 When you give it to them, they gather it up; when you open your hand, they are filled with good things.
All creation is dependent upon the Creator and exists for His glory.
Therefore, the Psalmist resolves to sing God's praise endlessly. Make this your resolve and your prayer:
Psalm 104:33-35 33 I will sing to the LORD as long as I live; I will sing praise to my God while I have being. 34 May my meditation be pleasing to Him, for I rejoice in the LORD. 35 Let sinners be consumed from the earth, and let the wicked be no more! Bless the LORD, O my soul! Praise the LORD! 
TODAY'S READING FROM THE BOOK OF PROVERBS- PROVERBS 26:27
Proverbs 26:27 27 Whoever digs a pit will fall into it, and a stone will come back on him who starts it rolling.
Those who intend to do evil to others discover the boomerang effect. It soon comes back to them.
PRAY FOR THE NATIONS – SPAIN
(from "Operation World" Prayer Guide p. 764-768)
Spain
Kingdom of Spain
Europe
Geography
Area: 504,783 sq. km
The major part of the Iberian Peninsula and Balearic Islands in the Mediterranean. Also included are the Canary Islands off northwest Africa and the enclaves of Ceuta and Melilla on the North African coast.
Population: 45,450,497    Annual Growth: 1.02%
Capital: Madrid
Urbanites: 77.4%
HDI Rank: 15 of 182 (UN Human Development Reports 2009)
Peoples
Peoples: 53 (11% unreached) All peoples
Unreached Peoples Prayer Card

Official language: Catalán, Galician and Basque are official languages in the respective autonomous regions. Castilian (Spanish) is the only official language for all the Spanish territory. Spanish is the first language of over 340 million people; the world's third most widely used language    Languages: 21 All languages
Religion
Largest Religion: Christian
| | | | |
| --- | --- | --- | --- |
| Religion |                 | Pop % | Ann Gr |
| | 35,055,968 | 77.13 | 0.1 |
| | 461,998 | 1.0 | 3.4 |
Challenges for Prayer
Key groups for outreach. Pray for these:
a) The Basques are an ancient and proud people without a single Euskera-speaking Protestant church. The Basque ETA movement terrorizes and polarizes society in the Basque region. There are fewer than 100 evangelical churches in the four provinces where Basques live (Guipúzcoa, Vizcaya, Alava and Navarra) and all of these are Spanish speaking. The few Basque-speaking evangelicals there find it difficult to worship or witness in their own language. Only now are Christian resources in Euskera appearing. The differing dialects in an already difficult language complicate the task. Pray for those involved in ministry, including AoG, YWAM, WEC and OM. Pray that centuries-old suspicions and fears, and the reserve of the Basque people, may be broken down.
b) Muslims may number over two million and are growing rapidly. The Moors ruled much of Spain for 700 years, and Muslims long to win back what they lost. The vast majority are immigrants from Morocco, but from many other African nations as well. South Spain is a key base area for many agencies committed to evangelizing Muslims in North Africa and in Spain; very few have been won to Christ. Pray for the Malaga Media Centre and the Ibero-American Institute of Islamic Studies (PMI). Pray for Muslim hearts to be opened and for believers in Spain to reach out in love.
c) Chinese numbers have increased to over 100,000. COCM, CMA and OMF work among them. There are now over 30 churches among the Chinese, who still number only 2% Christian.
d) Drug addiction is a blight on Spain which has one of Europe's highest rates of heroin and cocaine addiction. This in turn is a major contributing factor in the AIDS epidemic and the crime rate. In their centers across the country, RETO, REMAR and Betel (WEC-related) successfully rehabilitate drug addicts. RETO has 80 rehabilitation centers and ministers in 25 countries. REMAR has communities in 175 Spanish towns and works in 58 countries. Betel ministers in 80 urban areas and has planted churches in 21 countries. Over 100,000 former addicts have been set free, and many of them won to Christ through these vital ministries.
e) Young people need the gospel, having given themselves over to postmodern materialism and hedonism. They distrust organized religion. Their lifestyle is based on experience. Ministry to them must be highly relational and authentic. The IFES-linked student movement, Federación de Grupos Bíblicos Universitarios de España, has 35 university groups with 400 students – a tiny drop in the bucket of over one million students. Alongside GBU(IFES), AGAPE(CCCI) also works among students in several universities. Contra Corriente, an indigenous Spanish ministry to young people and students, possibly has the greatest impact. A growing number of alternative and underground ministries among young people are proving effective.
f) The elderly and retirees. This is a growing segment of the population, both among Spaniards and immigrants which will only get larger in the future. Some ministries are already proving quite effective in outreach to this generation; Doukonia is one such example.
Pray for the effectiveness of these Christian help ministries:
a) Bible translation. New versions are being produced in regional languages and in dialects of Spain. A conversational Spanish Bible, an Aragonese NT as well as Bibles in Euskera (Basque), Galego (Galicia), Asturian, Catalan and Romani are examples. Pray that many will read and be impacted by these translations.
b) Christian literature is a major factor in church growth, although literature work is expensive and bookstores hard to finance. Pray for Christian bookstores; CLC has six centers and a distribution network serving evangelical bookstores throughout Spain. Pray for more Christian authors who can write from a truly Spanish perspective.
c) Pocket Testament League impacts Spain through literature, well-publicized research and promotion of missionary vision.
d) Christian radio. Evangelicals run over 90 radio stations. However, licensing for evangelical radio remains a problem, while Catholics easily obtain AM, FM and TV licensing.
e) Christian TV. There are now around 30 small evangelical TV stations, all without a license but tolerated by the state. Evangelical programs on public TV maintain an evangelical presence in the secular and mainstream media.
f) There are countless evangelical websites in Spanish. Protestante Digital is Spain's leading evangelical news agency. Solidaria is a Castilian TV channel on the Internet and satellite, run by REMAR. Pray for the growing number of Internet radio stations in Spanish.
g) Christian camps are a ministry through which many youths in Spain come to Christ. Some 37 evangelical camps do wonderful work in evangelism, discipleship and leadership training. Pray for their continued impact and effectiveness in breaking down negative preconceptions of evangelicals and in winning many to Jesus.
PRAYER: Lord, You are so merciful in Your communication to us. You have proclaimed truth to us and then sent Your Son to us to act it out. He demonstrated Your love to us in that while we were still sinners, He died for us. He took the punishment that our sins deserved and bore it on His own body. Because Your Word is perfect, Your promise is sure, and the work that Christ accomplished fully satisfied Your impeccable sense of justice, we can enter into rest. Thank You for the profound peace and the deep sense of satisfaction that is ours when we trust in Jesus. We pray that our meditation upon Your Word, and our efforts to cooperate with Your Spirit throughout the day, will be pleasing in Your sight. In Jesus' Name. Amen. 
-Pastor David
So, naturally, we proclaim Christ! We warn everyone we meet, and we teach everyone we can, all that we know about him, so that, if possible, we may bring every man up to his full maturity in Christ. (Colossians 1:28, J.B. Phillips paraphrase)
New Life Community Church, Concord, MA 10742
www.newlife.org
Meeting Sundays at 10:30 AM at the New Life Ministry Center, 221 Baker Avenue, Concord, MA 01742
Church Office- 978-369-0061
New Life Fine Arts
"Theater you can believe in."
www.newlifefinearts.org