OCTOBER 13- TODAY'S READING FROM THE ONE YEAR BIBLE- JEREMIAH 22:1-23:20; 2 THESSALONIANS 1:1-12; PSALMS 83:1-18; PROVERBS 25:11-14 
TODAY'S READING FROM THE OLD TESTAMENT- JEREMIAH 22:1-23:20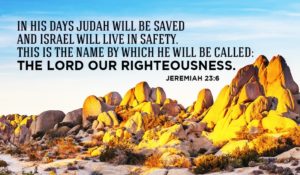 Today's reading in The Book of Jeremiah looks beyond the failure of the unrighteous Kings of Israel and Judah to the Promised King, the Righteous Branch, the Messiah. Where the northern and southern kingdoms of Israel had failed, Jesus would succeed. He is the true King of the Jews.
With holy boldness, Jeremiah walks right into King Jehoiachin's palace and calls him to keep the commands of God and rule righteously. If not, none of his descendants will sit on the throne. Jeremiah prophesies against him:
Jeremiah 22:30 30  "Thus says the LORD, 'Write this man down childless, A man who will not prosper in his days; For no man of his descendants will prosper sitting on the throne of David or ruling again in Judah.'"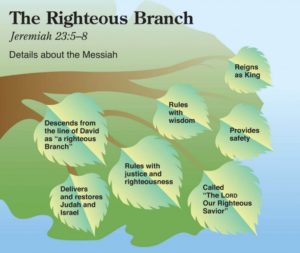 This prophecy, also known as 'the curse on Jeconiah', was fulfilled as Jehoiachin (Jeconiah) was the last of his line, the branch of Solomon, to sit on the throne of David.
But how then could Jesus qualify as the Messiah, the son of David, if no descendant of Jeconiah can sit on the throne?
It is true that Jesus of Nazareth's step-father, Joseph, was a descendant of Jehoiachin (also called Jeconiah, Jeremiah 22:24, Matthew 1:11-12). However, Joseph was not the biological father of Jesus. Both Mary and Joseph were descendants on the family tree of King David, but Mary was a descendant on the branch of David's son, Nathan, and therefore was not a descendant of David through the unrighteous branch of Jeconiah (Luke 3:31). This fact is consistent with the claim of the virgin birth.
Other Bible scholars point out that 'the curse on Jeconiah' was temporary; that is, it was in effect only during Jehoiachin's lifetime, and it affected only his immediate family. It is recorded that Jehoiachin was later released from prison in Babylon and shown favor by Nebuchadnezzar's son.
2 Kings 25:27-28 27  Now it came about in the thirty-seventh year of the exile of Jehoiachin king of Judah, in the twelfth month, on the twenty-seventh day of the month, that Evil-merodach king of Babylon, in the year that he became king, released Jehoiachin king of Judah from prison; 28  and he spoke kindly to him and set his throne above the throne of the kings who were with him in Babylon.
Some point out that the curse seems to be reversed in that Jeconiah's grandson Zerubbabel, prospered and ruled and that the prophet Haggai used words that were the opposite of Jeremiah 22:24. Notice the contrast:
Jeremiah 22:24 24 "As I live," declares the LORD, "even though Coniah the son of Jehoiakim king of Judah were a signet ring on My right hand, yet I would pull you off.
Haggai 2:23 23  'On that day,' declares the LORD of hosts, 'I will take you, Zerubbabel, son of Shealtiel, My servant,' declares the LORD, 'and I will make you like a signet ring, for I have chosen you,'" declares the LORD of hosts.
Jeremiah pronounces judgment upon the false shepherds of Judah (Jeremiah 23). They have wounded, scattered and destroyed the sheep.
Jeremiah 23:1 1 "Woe to the shepherds who are destroying and scattering the sheep of My pasture!" declares the LORD.
But God has promised a Good Shepherd- God Himself would be the Good Shepherd.
Jeremiah 23:3-4 3  "Then I Myself will gather the remnant of My flock out of all the countries where I have driven them and bring them back to their pasture, and they will be fruitful and multiply. 4 "I will also raise up shepherds over them and they will tend them; and they will not be afraid any longer, nor be terrified, nor will any be missing," declares the LORD.
In the New Testament church, Jesus, who is the Good Shepherd, commissions and establishes through the Holy Spirit 'under shepherds' to feed, tend and protect His sheep (John 21:15-17; Ephesians 4:11; Acts 20:28-29; 1 Peter 5:1-4).
Whereas Israel's kings, prophets, and teachers were false and evil shepherds, Jesus would be "The Good Shepherd" (John 10:11,14).  Where Israel was a false vine (Isaiah 5), Jesus would be "The True Vine" (John 15:1).  Whereas King Jehoiakim, (and other descendants of Solomon) proved to be an unrighteous branch in the offspring of David, Jesus would be "The Righteous Branch".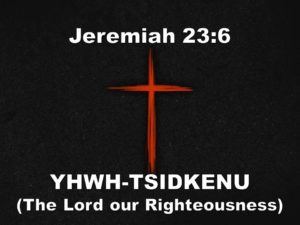 Jeremiah 23:5-6 5  "Behold, the days are coming," declares the LORD, "When I will raise up for David a righteous Branch; And He will reign as king and act wisely And do justice and righteousness in the land. 6 "In His days Judah will be saved, And Israel will dwell securely; And this is His name by which He will be called, 'The LORD our righteousness.'
 This wonderful name of the Lord indicates that all that Jesus is, and all that He did, is on behalf of those who believe on Him. He is not just "The Righteous Lord", He is the "Lord our righteousness" (Jeremiah 23:6; 33:16).
1 Corinthians 1:30 30 But by His doing you are in Christ Jesus, who became to us wisdom from God, and righteousness and sanctification, and redemption,
From Jeremiah 23:9-40, Jeremiah prophecies against the false prophets.
Jeremiah 23:16-17 16 Thus says the LORD of hosts, "Do not listen to the words of the prophets who are prophesying to you. They are leading you into futility; They speak a vision of their own imagination, not from the mouth of the LORD. 17  "They keep saying to those who despise Me, 'The LORD has said, "You will have peace"'; And as for everyone who walks in the stubbornness of his own heart, they say, 'Calamity will not come upon you.'"
These warnings about false prophets apply to us today (Matthew 7:15; 2 Timothy 4:3-4;).  We must test all that we hear with what is written in Scripture (1 John 4:1-2). What do they say about Jesus Christ? Is He proclaimed as the second person of the Trinity, and given the pre-eminence in all things (Colossians 1:15-18)? What do they say about the sinful condition of man and the need for the only Savior (Romans 3:23)? What do they say about Christ's death on the cross (1 Corinthians 15:3-5)? Did He provide atonement through His shed blood (Hebrews 9:22)? Does His saving work provide peace with God and peace in the heart, or do we need to look elsewhere (Colossians 1:19, John 14:27; Romans 5:1)? What do they say about His bodily resurrection, ascension and His promise to return to establish God's kingdom? What do they say about the redeemed people of God? Do they love what Christ loves (1 John 3:14)?
False prophecies, like the serpent's lie in Genesis 3, often contain a portion of the truth but in a twisted, manipulated form, where it is added to, or diminished, taken out of context and mixed into a distortion of the genuine. False prophets appear to represent the mind of God, but prophesy out of their own imaginations and dreams rather than God's revelation through the Word. Jesus points out that "by their fruit you will know them" (Matthew 7:15-20)- They do not live by the principles of God's Word. They tend to be arrogant and self-serving. They appeal to the desires of their audience, say what people want to hear. They water down the truth of God's Word to make it more palatable to their hearers. They accommodate the evil practices of the culture, subtly compromising God's Word. They ignore the reality of human accountability, the imminence of judgment, and the need for repentance and saving faith in Christ.
The true Word of God is grain. The false word is straw.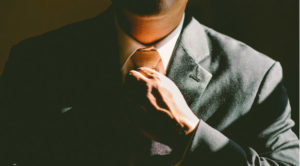 Jeremiah 23:28 28 "The prophet who has a dream may relate his dream, but let him who has My word speak My word in truth. What does straw have in common with grain?" declares the LORD. 
TODAY'S READING FROM THE NEW TESTAMENT – 2 THESSALONIANS 1:1-12
Paul writes his second letter to the Thessalonians shortly after his first, while he is still in Corinth (49-51 AD).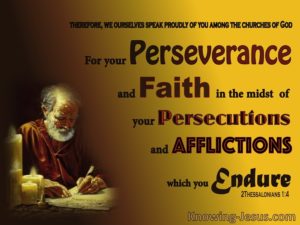 In the first letter, he was careful to affirm and encourage them in their faith, love, and hope.  He encouraged them to live lives that are pleasing to God and to patiently wait for the coming of the Lord. They should not be anxious about the future of those who die in the Lord, as if they will miss out on the benefits of Christ's return. He explains that the dead in Christ will rise first. They will experience the kingdom firsthand.  They will not miss out!
Paul learned that the Thessalonians had received his first letter and that they were encouraged, and were still growing in their faith. However, false teachers were leading them astray concerning the Second Coming. Some believed that the Lord had already returned, but in a mystical way (2:1-2). Some, perhaps in anticipation of the Lord's return, were becoming idle, quitting their jobs, and waiting for the end of the world (3:6-15)!  (This phenomenon has occurred in Christian circles in various parts of the world throughout church history, even in our lifetimes.)  So, Paul was constrained by the Holy Spirit to write a second letter to bring further encouragement and correction.
It is a letter written to encourage believers to continue in the apostle's doctrine.
2 Thessalonians 2:15 15 So then, brethren, stand firm and hold to the traditions which you were taught, whether by word of mouth or by letter from us.
We learn that the persecution against the church at Thessalonica had continued from the first day when Paul and Silas originally planted it.
Paul assures them that relief and vindication is coming. When? At the second coming (2 Thess 1:7).
Paul speaks of hell as 'eternal destruction' (1:9) away from the presence of God. It is the fate of those 'who do not obey the gospel of our Lord Jesus' (1:8). But he also reminds believers that their sure reward is that Christ will be glorified in them.
Paul gives us another example of a great prayer request. Let us pray this prayer for our brothers and sisters:
2 Thessalonians 1:11-12 11  To this end also we pray for you always, that our God will count you worthy of your calling, and fulfill every desire for goodness and the work of faith with power, 12  so that the name of our Lord Jesus will be glorified in you, and you in Him, according to the grace of our God and the Lord Jesus Christ. 
TODAY'S READING FROM THE BOOK OF PSALMS – PSALMS 83:1-18
In Psalm 83, the singer calls for help. He is singing of the persecution, the isolation, and the ill will of enemies who surround him. He asks the Lord to do for him what only He can do.  He does not do this for the preservation or the glory of SELF, but that "men will seek the Name of the Lord" (83:16).
Psalm 83:18 18 That they may know that You alone, whose name is the LORD, Are the Most High over all the earth.
TODAY'S READING FROM THE BOOK OF PROVERBS – PROVERBS 25:11-14
Proverbs 25:11-14 11 Like apples of gold in settings of silver Is a word spoken in right circumstances. 12 Like an earring of gold and an ornament of fine gold Is a wise reprover to a listening ear. 13 Like the cold of snow in the time of harvest Is a faithful messenger to those who send him, for he refreshes the soul of his masters. 14 Like clouds and wind without rain Is a man who boasts of his gifts falsely. 
It is not just what we say, it is how we say it.  Your words may offer apples of gold, but be sure to offer them in settings of silver. Gold speaks of what is godly. Silver speaks of what is redemptive. May we give and receive truth, lovingly, and redemptively.  May we be messengers who refresh rather than those who are unreliable or a pain. Let us be good newsers! 
PRAY FOR THE NATIONS
(Operation World Prayer Guide)
705- 718 contain thorough prayer requests for Russia)
The Russian Orthodox Church (ROC) survived Communism, and it remains the one major symbol of Russian identity. It sees itself as the preserver of a great Christian civilization handed down from Rome and Byzantium. It endured terrible persecution (along with other Christian groups) between 1920 and 1990 when up to 200,000 Christian leaders died as martyrs. Pray that all that is best about Orthodoxy's 1,000-year history will thrive and influence culture and society. Pray that the ROC will make peace with other Christian groups and will stop any activity to suppress or harm them. Pray for the renewal movements within Russian Orthodoxy, and for fresh outreach to the Russian people. Russian Orthodoxy is culturally strong, but spiritually weak in the lives of most of its followers.
PRAYER: O Faithful God! You have brought forth on our behalf the Righteous Branch, the Lord Jesus Christ who is 'the Lord our righteousness'! He is all that we need, and we are determined that He is to have preeminence in all things, that You might be glorified. We thank You for your promises, and for the prospect of our future reign with Christ in Your kingdom. Thank You for reminding us of history's destination- that there is the reality of a heaven to seek and a hell to shun. We pray that we will be faithful to share the good news by calling all we can to repentance and faith. In Jesus' Name. Amen.
Pastor David