OCTOBER 24 TODAY'S READING FROM THE ONE YEAR BIBLE- JEREMIAH 44:24- 47:7; 2 TIMOTHY 2:22-3:17; PSALM 94:1-23; PROVERBS 26:6-8 
TODAY'S READING FROM THE OLD TESTAMENT- JEREMIAH 44:24- 47:7 
The Judean remnant, the people who deceived themselves (Jer 37:9), and deceived Jeremiah into thinking that they were sincere in their intentions to find out the will of God and to do it (Jer 42:2), once again rebel against the Word of the Lord. They reject Jeremiah's prophecies. They abandon their stations in the Promised Land and vainly seek refuge in Egypt. They continue their idol worship, offering incense, cakes, and drink offerings to the Queen of heaven, the fertility goddess, Ishtar (Jeremiah 44:25). Jeremiah assures them that disaster awaits them in Egypt (44:27).
He gives them a sign of the veracity of this prophecy, a prediction of the imminent death of Pharaoh Hophra. This sign was fulfilled in 570 BC. Pharaoh Hophra is strangled by Amasis, one of his generals, paving the way for Nebuchadnezzar's invasion of Egypt in 568 BC.
Chapter 45 takes us back to the events recorded in Chapter 36:1-8. This portion of Jeremiah was written earlier, in the fourth year of Jehoiakim (605-604 B.C.), when Baruch started to record Jeremiah's dictated messages on a scroll.
Baruch had a brother on the king's official staff. Baruch could have had a comfortable government job, but instead, he chose to identify with Jeremiah and serve as Jeremiah's secretary.
Apparently, Baruch was discouraged by the prophecies Jeremiah was dictating to him. They impacted his plans for the future.  God was promising the destruction of his city, the removal of his people, and the conquest of the nation by foreign invaders, the Babylonians. Jeremiah prophesied they would be in exile for 70 years. This is not how Baruch was hoping to spend his life. He had different expectations. Baruch was feeling that God was adding sorrow to his pain (Jeremiah 45:3).
Jeremiah is granted a word from the Lord that exposes the workings of Baruch's heart. God's word reveals that Baruch was more concerned with his personal ambitions and desire for comfort than the fulfillment of the purposes of God. Sadly, God would indeed have to bring judgment to His people, and overthrow, tear down, and uproot what had been built in Jerusalem. But in the future, He would replant and build anew. God's ultimate purpose is for Baruch's good. Therefore, he should put his hope in God.
He was not to seek 'great things for himself', because God was going to bring disaster to Jerusalem. Any comfortable government job would lead to ruin. Jeremiah's message was purposed to remind Baruch that he should be thankful that God was going to provide for his salvation, sparing his life from the calamities that would be happening all around him. He should not be sorrowing because God was not providing the life he had wanted but rejoicing that He was providing for the life he needed.
Jeremiah 45:5 5 'But you, are you seeking great things for yourself? Do not seek them; for behold, I am going to bring disaster on all flesh,' declares the LORD, 'but I will give your life to you as booty in all the places where you may go.'"
The response that God was looking for in Baruch was one that was found in his contemporary, the prophet Habakkuk, when he heard the news of the prophesied invasion:
Habakkuk 3:16-19 16 I heard, and my inward parts trembled, At the sound my lips quivered. Decay enters my bones, and in my place I tremble. Because I must wait quietly for the day of distress, For the people to arise who will invade us. 17  Though the fig tree should not blossom and there be no fruit on the vines, though the yield of the olive should fail and the fields produce no food, though the flock should be cut off from the fold and there be no cattle in the stalls, 18  Yet I will exult in the LORD, I will rejoice in the God of my salvation. 19 The Lord GOD is my strength, and He has made my feet like hinds' feet, and makes me walk on my high places.
Remember that the Book of Jeremiah is a compilation of his prophecies. They are not all in chronological order. God had ordained him to be a prophet to the nations (Jeremiah 1:5).
Jeremiah 1:5 5 "Before I formed you in the womb, I knew you, and before you were born, I consecrated you; I have appointed you a prophet to the nations."
Chapters 2- 45 were prophecies pertaining to the people of Judah.
Chapters 46 -51 contain prophecies pertaining to the surrounding heathen nations.
Chapter 46 is Jeremiah's prophecy to Egypt. We have seen in history how Egypt encouraged Judah's revolt against Babylon, assuring that she would protect Judah from the Babylonians. She proved that she was incapable of doing so.
Jeremiah predicts Egypt's defeat by Nebuchadnezzar at Carchemesh (609 BC) in the fourth year of Jehoiakim. He pictures their panicking, retreating troops:
Jeremiah 46:5 5 "Why have I seen it? They are terrified, they are drawing back, and their mighty men are defeated and have taken refuge in flight, without facing back; Terror is on every side!" declares the LORD.
Archeologists recovered the "Chronicles of Chaldean Kings" (626-556) now in the British Museum. These writings, from the Babylonian point of view, confirm the retreating of the Egyptian armies before the Babylonians (See "The Chronicles of Chaldean Kings" by Donald Wiseman).
Jeremiah predicts the ridicule that the Babylonians will bring against Pharaoh Neco. (This is the same Pharaoh who had killed King Josiah of Judah).
Jeremiah 46:17 17 "They cried there, 'Pharaoh king of Egypt is but a big noise; He has let the appointed time pass by!'
Chapter 47 records Jeremiah's prophecy against the Philistines before Pharaoh attacked Gaza. The Philistines occupied the coastal plain of Judah and were a continual thorn in their side since the Conquest of Canaan (Judges 3:1-4).
Judges 3:1-4 1  Now these are the nations which the LORD left, to test Israel by them (that is, all who had not experienced any of the wars of Canaan; 2  only in order that the generations of the sons of Israel might be taught war, those who had not experienced it formerly). 3 These nations are: the five lords of the Philistines and all the Canaanites and the Sidonians and the Hivites who lived in Mount Lebanon, from Mount Baal-hermon as far as Lebo-hamath. 4 They were for testing Israel, to find out if they would obey the commandments of the LORD, which He had commanded their fathers through Moses.
Many Israelite leaders had attempted to subdue the Philistines (such as Shamgar, Samson, Samuel, and Saul). It was only King David who was granted success (2 Sam 8:1). However, the Philistines regained their power under the reign of kings Jehoram and Ahaz of Judah.
In this prophecy, the Babylonians are pictured as waters that are rising in the north. They would eventually become an army led by galloping steeds (Jeremiah 47:3). 
TODAY'S READING FROM THE NEW TESTAMENT – 2 TIMOTHY 2:22-3:17
Flee the evil desires of youth.  Young people are susceptible to the lure of experimentation. Therefore, clear boundaries need to be maintained. It is not likely that Paul is thinking only of sexual temptations here, but in the context, the youthful passions of impatience, intolerance, the love of argument, self-assertion, and partiality. Instead, Paul reminds him to seek the opposite- patience, forbearance, gentleness, humility, and fairness. Focus on righteousness, faith, love, and peace.
Choose to develop friendships with those "who call on the Lord out of a pure heart"; those who truly know the Lord and know how to pray (2 Tim 2:22).
Choose not to get involved in stupid arguments — model being kind rather than quarrelsome. Turn what could be profitless disputes into teachable moments.
Satan is at work attempting to take captive those who are opposing the Lord's servants. Paul gives the orders to instruct opponents gently and patiently to recover them from Satan's grip, trusting that God will grant them repentance leading to the knowledge of the truth (2 Timothy 2:24-26).
In Chapter 3, Paul describes the people in the last days, the period known as the church age, stretching from Pentecost to the rapture of the church. Verses 1-9 perfectly describe the contemporary God-hating culture (the world system governed by the prince of darkness).
Whereas Paul tells Timothy to patiently instruct some people, he is to avoid others:
2 Timothy 3:6-7 6 For among them are those who enter into households and captivate weak women weighed down with sins, led on by various impulses, 7 always learning and never able to come to the knowledge of the truth.
Jannes and Jambres were magicians who opposed Moses. Timothy is reminded that there are those who oppose the ministry of the gospel. As Jannes and Jambres, they are counterfeit gospel ministers.
The good news is that these false ministers will not get very far, and soon their fallacy will be exposed.
2 Timothy 3:9 9 But they will not make further progress; for their folly will be obvious to all, just as Jannes's and Jambres's folly was also. 
Once again, Paul reminds Timothy that persecution is to be expected in the Christian life.
2 Timothy 3:12 12 Indeed, all who desire to live godly in Christ Jesus will be persecuted.
Hardships should make Timothy 'better' rather than 'bitter.' Timothy has Paul's example of 'a steadfast purpose,' 'faith,' 'patience,' 'love,' and 'endurance.'
Paul reminds Timothy of his godly heritage and encourages him to stick to the Scriptures:
2 Timothy 3:14-17 14  You, however, continue in the things you have learned and become convinced of, knowing from whom you have learned them, 15  and that from childhood you have known the sacred writings which are able to give you the wisdom that leads to salvation through faith which is in Christ Jesus. 16 All Scripture is inspired by God and profitable for teaching, for reproof, for correction, for training in righteousness; 17 so that the man of God may be adequate, equipped for every good work.
Here we have an affirmation of the full inspiration and sufficiency of Scripture— Full Inspiration- (ALL Scripture is inspired by God). Complete sufficiency – (equipping us for EVERY good work!)
The immediate benefit of the Word is that it gives you wisdom that leads to salvation.
How do we get saved from the wrath of God against sin? Through faith in Christ Jesus.
TODAY'S READING FROM THE BOOK OF PSALMS – PSALM 94:1-23
Psalm 94:1-2 1 O LORD, God of vengeance, God of vengeance, shine forth! 2 Rise up, O Judge of the earth, Render recompense to the proud.
The Psalmist describes those without faith who live their lives with no regard for God. They are counted as celebrities today but will be judged tomorrow. They appear jubilant. They pour out arrogant words. They are full of boasting and disdain for the people of God and even condemn the innocent to death (Think of the horrors of abortion!)
Psalm 94:11 11 The LORD knows the thoughts of man, that they are a mere breath. 
The Lord gives peace to the hearts and minds of those who rest in Him. 
Psalm 94:19 19 When my anxious thoughts multiply within me, your consolations delight my soul.
The Psalmist affirms both God's patience and vengeance. He recognizes the benefit of divine chastisement that leads to repentance, but he also recognizes that the Lord will ultimately bring about a judgment that is founded in righteousness. Either we trust in the One who bore the judgment for sin on the cross, or we will bear the judgment for sin in our own bodies (See Psalm 94:22-23).
Psalm 94:22-23 22 But the LORD has been my stronghold, and my God the rock of my refuge. 23 He has brought back their wickedness upon them and will destroy them in their evil; The LORD our God will destroy them. 
TODAY'S READING FROM THE BOOK OF PROVERBS-26:6-8
Proverbs 26:6-8 6 He cuts off his own feet and drinks violence Who sends a message by the hand of a fool. 7 Like the legs which are useless to the lame, so is a proverb in the mouth of fools. 8 Like one who binds a stone in a sling, so is he who gives honor to a fool. 
Fools are as useless as messengers as a lame leg to a runner. If a proverb is not understood, it cannot be implemented. Fools end up destroying themselves. Be careful whom you honor. A person may look like a potential David with a stone in a sling that might be useful against a Goliath. But the stone may be tied to the sling and the man be proved a fool rather than a hero.
PRAY FOR THE NATIONS – SEYCHELLES
(from Operation World and Prayercast.com)
Seychelles
Republic of Seychelles
Africa
Geography
Area: 453 sq. km
A group of 92 granite and coral islands spread across 400,000 sq. km of the Indian Ocean; 1,600 km east of Kenya.
Population: 84,600    Annual Growth: 0.47%
Capital: Victoria
Urbanites: 55.3%
HDI Rank: 57 of 182 (U.N. Human Development Reports 2009)
Peoples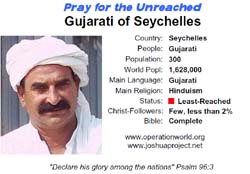 Peoples: 10 (30% unreached) All peoples
Unreached Peoples Prayer Card
Official language: French, English and Seselwa (a French Creole)    Languages: 3 All languages
Religion
Largest Religion: Christian
| | | | |
| --- | --- | --- | --- |
| Religion |                 | Pop % | Ann Gr |
| | 81,292 | 96.09 | 0.4 |
| | 4,959 | 5.9 | 2.5 |
 Located in the Indian Ocean north of Madagascar, the Seychelles are a group of over a hundred granitic and coralline islands. The fact that 41 of these islands are granitic, mountainous, and located on top of a small continental shelf technically makes them a micro continent. The islands were uninhabited when the French first settled in 1770. After the Napoleonic Wars, in 1814, Great Britain gained control of the islands, which became independent in 1976. A 1977 coup brought about a socialist government which held onto power until multiparty elections in 1992. Marked by a history of plantations with a white upper class and black slavery, the Seychelles still show signs of social stratification based on skin color.
Since 1976, the economy of Seychelles has come from a near subsistence level to an upper middle income; per capita output has grown around seven times. Seychelles ranks on various extremes in Africa: it has the lowest population, the highest HDI (Human Development Index), and the most unequal distribution of wealth. The tourist sector is very important to the economy, employing roughly 30% of the labor, as is the tuna fishing industry. The Seychelles' government is trying to lessen the dependence on tourism by promoting farming, fishing, and small-scale manufacturing.
The majority of Seychellois (96%) are Christian, with most Roman Catholic and roughly 6% evangelical.  Despite this, nominalism and superstition are very high, and many Christians mix spiritism with Christian beliefs. Surveys reveal that only 2% of the population believe Jesus is the Son of God, and 95% mix Christianity with animistic concepts. Denominational relationships can be tense, and the outer islands have had little chance to hear the message of Christ. While the evangelical population is small, they have a large vision and are actively trying to make an impact.
For video prayer: https://prayercast.com/seychelles.html
Challenges for Prayer
The vast majority of Seychellois claim to be Christian, but evidence of true spiritual transformation seems outweighed by superstition and nominalism. Gris-gris, a voodoo-like African spiritism based on black magic and herbalism, permeates the lives of Christians. Despite the disapproval of religious leaders, most Seychellois remain happy to mix religion into this dangerous cocktail. Pray that the Holy Spirit may bring new life evidenced by repentance and sustained fruit.
PRAYER- Lord, may we never second-guess Your Word. Instead of seeking great things for ourselves, we choose to seek first Your kingdom and do that which seems good in Your sight. We know Your plan is perfect, and You know what is best for our lives.  Continue to renew our minds and inspire our devotion as we go deeper in Your Word. Your consolations delight our souls. Make us fruit-bearing disciples, faithful ambassadors, and workmen that need not be ashamed, rightly handling the Word of Truth. In Jesus' Name. Amen. 
-Pastor David