OCTOBER 31- TODAY'S READING FROM THE ONE YEAR BIBLE- LAMENTATIONS 4:1-5:22; HEBREWS 2:1-18; PSALMS 103:1-22; PROVERBS 26:23 
Today is Reformation Day, commemorating Martin Luther delivering the 95 Theses on October 31, 1517, triggering a widespread rediscovery of the good news of salvation by faith alone, in Christ alone, by grace alone. "Post tenebris, lux!" After the darkness, light! May the Word continue to do the work of bringing the dead to life!
TODAY'S READING FROM THE OLD TESTAMENT- LAMENTATIONS 4:1-5:22 
This is the third poem of the four Lamentations that begin with the Hebrew exclamatory: "How!" "How the gold has lost its luster, the fine gold has become dull!" (Lamentations 4:1). Not only is the prophet describing the appalling loss of the temple building's glory, but he is also describing the sadder loss of human beings falling short of the glory of God (Romans 3:23).
Lamentations 4:2 2 The precious sons of Zion, weighed against fine gold, how they are regarded as earthen jars, The work of a potter's hands!
They are no longer vessels of honor. He describes their utter destitution. He says that their iniquity is greater than that of Sodom. You will remember that Sodom was utterly destroyed because of its wickedness (Genesis 18:20-19:29). It became the symbol of God's ultimate judgment. Here we read:
Lamentations 4:6 6 For the iniquity of the daughter of my people is greater than the sin of Sodom, which was overthrown as in a moment, and no hands were turned toward her.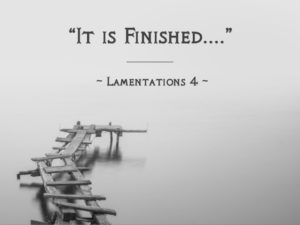 He states that quick death by sword or sudden disaster is preferable to the long-suffering of starvation brought on by the siege warfare, which cut Jerusalem off from its food supply. The enemy surrounding the city wall prevented the inhabitants from going out to the fields for food.
The plight of starvation and cannibalism is again referred to (Lam 4:10). The suffering is due to the sins of the people- especially the sins of their leaders, the kings, prophets, and priests.
God does grant favor to His people. There will come a day when the judgment will be over; the chastisement will have served its purpose.  One day the words will be heard: "It is finished" (John 19:30).
Lamentations 4:22 22 The punishment of your iniquity has been completed, O daughter of Zion; He will exile you no longer. But He will punish your iniquity, O daughter of Edom; He will expose your sins!
The fifth and final lamentation poem begins with the word: "Remember" (Lamentations 5:1).
Once again, the first part of the last song describes the condition of the people as they go into the Babylonian captivity. They are forsaken, abandoned, and humiliated. Conditions of slavery have returned.
Lamentations 5:8-9 8 Slaves rule over us; There is no one to deliver us from their hand. 9 We get our bread at the risk of our lives because of the sword in the wilderness.
The suffering affects every age group and every strata of society.
In the second part of the song, the writer contrasts their present situation, in which they feel that God has forgotten them (5:20), with the reality affirmed in their hearts.
Lamentations 5:19 19 You, O LORD, rule forever; Your throne is from generation to generation.
God is in control. He rules over all, and therefore there is purpose in their suffering. This chastisement is designed to turn their hearts back to Him. Therefore, they make this request:
 Lamentations 5:21-22 21 Restore us to You, O LORD, that we may be restored; Renew our days as of old, 22 Unless You have utterly rejected us and are exceedingly angry with us.
I like the King James translation of this, as it seems to articulate well the necessity of God's work in granting us' repentance unto life':
Lamentations 5:2121 Turn thou us unto thee, O LORD, and we shall be turned. 
TODAY'S READING FROM THE NEW TESTAMENT – HEBREWS 2:1-18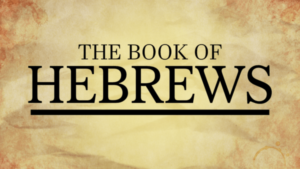 The author of the Book of Hebrews is making an appeal to the Hebrews professing faith in Christ who are experiencing pressure from persecutors to regress to their identification and participation with the Jewish temple rituals to pacify their aggressors.
He calls them to recognize the supremacy and sufficiency of Christ over all things. They should not return to the false security of their old religious system found in Judaism. All the temple rituals and ordinances were shadows for which Jesus is the substance.
After introducing the unparalleled glory of Jesus Christ as God Incarnate, the full and final Word of God, the radiance of God's glory, the exact representation of His nature, and the One who upholds all things by the word of His Power in verses 1 through 3, the writer makes it very clear that Jesus stands above the greatest of the great in Judaism, because He is one with Yahweh Himself.
He is better than the angels. He is the One who made the angels, is worshiped by the angels, accomplished what angels could not accomplish (making purification of sins), and has been declared to be the Son of God in power (by the resurrection) crowned with glory (in the ascension where He is seated at the right hand of the Father) and anointed as King, Priest, Prophet, and Judge, with the oil of gladness. He has been given a Name that is above every Name so that at the Name of Jesus, every knee will bow, and every tongue confess that Jesus Christ is Lord! (Compare Hebrews 1:3-13 with Philippians 2:8-11). Jesus is better than the angels in that He is eternal. Everlasting life has a beginning. Eternal life has no beginning and no ending. He is ever the same. He always was, is, and is to come (See 1:12).
We can thank God for the ministry of the angels. But the purpose of the angels is to direct all to Christ, and, as those appointed to deliver the 'heirs of salvation', (believers) safely to Him (Hebrews 1:14).
In Chapter 2, the writer continues his appeal that the Hebrews recognize that Jesus is superior to the angels and that the angels would have them boldly identify with Christ, worship Christ, and follow Christ.
In Chapters 3 and 4, he will explain that Jesus is better and regarded higher than Moses and the fulfiller of the Mosaic covenant- having authored a better covenant.
In Chapters 5 through 10, he will explain that Jesus is better and regarded higher than Aaron, the High Priest of the Old Testament, and Jesus fulfills once and for all the perfect priestly work.
Hebrews 10:19 transitions the reader from doctrine into application. The word 'therefore' hinges the revelation (the doctrinal indicative) with the application (the pastoral imperative). Believers are not to retreat into that which only foreshadowed Christ. We are to draw near unto Christ Himself.
Hebrews 10:19-22 19  Therefore, brethren, having boldness to enter the Holiest by the blood of Jesus, 20  by a new and living way which He consecrated for us, through the veil, that is, His flesh, 21  and having a High Priest over the house of God, 22  let us draw near with a true heart in full assurance of faith, having our hearts sprinkled from an evil conscience and our bodies washed with pure water.
Hebrews 12:1-2 1  Therefore we also, since we are surrounded by so great a cloud of witnesses, let us lay aside every weight, and the sin which so easily ensnares us, and let us run with endurance the race that is set before us, 2  looking unto Jesus, the author and finisher of our faith, who for the joy that was set before Him endured the cross, despising the shame, and has sat down at the right hand of the throne of God. 
Chapter 2 of Hebrews begins with a 'therefore' that hinges the doctrinal indicative citing Jesus' supremacy to the angels with a pastoral imperative:
Hebrews 2:1-3 1 For this reason we must pay much closer attention to what we have heard, so that we do not drift away from it. 2 For if the word spoken through angels proved unalterable, and every transgression and disobedience received a just penalty, 3 how will we escape if we neglect so great a salvation?
We have been given a greater Word than that which angels delivered to Moses on Mount Sinai. If heeding the word spoken by Moses was a matter of life and death, how much weightier a matter is our need to be obedient to Jesus Christ!
The whole of their religious and national economy (the household rules of Judaism) was delivered to them by angels. But considering that God, who spoke to their forefathers in times past by the prophets, He has now spoken through His Son that He has finished the work of redemption and is the author of our salvation, shouldn't His Word be heeded?
There was a warning given in the Old Testament not to drift away from their allegiance to God's Word. Now, having confirmed the finished work of Christ with the attesting miracle of His resurrection and the signs and wonders that prove His Messiahship and the truth of the apostolic message, they must be warned to not drift away from their allegiance to the gospel. (See Hebrews 2:1-4)
The kingdom to come is not going to be subject to the rule of angels but the authority of Christ Jesus (See Hebrews 2:5-9).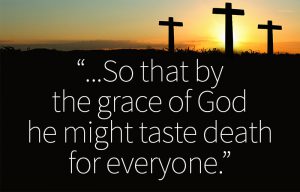 Jesus and His mediation of a new covenant accomplished what angels, or the laws given by the angels, could not accomplish. That is, He authors and accomplishes our salvation! He brings many sons to glory! (Hebrews 2:10). He makes it possible for repentant sinners who believe on Him to be born from above, set apart, sanctified, and made members of God's family so that He, Jesus, is not ashamed to call us His brothers.
Jesus did in His human body what angels could not do in their celestial bodies. He partook of our flesh and blood that He might experience the death that God's holy law demanded for our sin. Because He, the Creator, died the death that the Creator demanded for the wayward creature, He thereby abolishes that death, and He destroys the hold that the devil has to keep us in bondage to death.
Jesus did not come to rescue the angels. He came to rescue those born of flesh and blood, who, like Abraham, believe on Him, the One God has promised.
The purpose of the Incarnation of the second person of the Trinity, God the Son, was that He might become a merciful and faithful high priest in things pertaining to God, to make propitiation for our sins (a sacrifice that averts God's wrath from the penitent believer-Hebrews 2:17).
This work was not done for the angels, nor could it have been accomplished by an angel. It was accomplished for man by God the Son, who became the Son of man.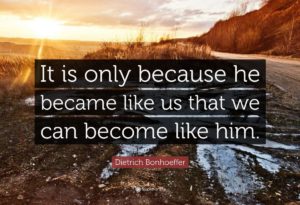 As theologians have said (we are not quite sure who said it first), "The Son of God became the Son of man, so that sons of men can become sons of God."
Dietrich Bonhoeffer put it this way: "It is only because He became like us, that we can become like Him." 
TODAY'S READING FROM THE BOOK OF PSALMS- PSALMS 103:1-22.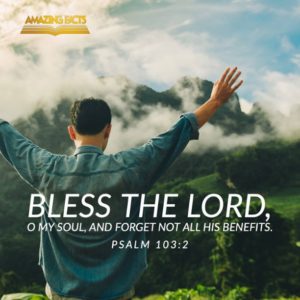 In this Psalm, the singer addresses himself. There are times we slip into states of unreality, or emotional moods of discouragement, simply because we forget Who God is and the great things He has done. We need to be filled with the truth of God's Word, the powerful life of God's Spirit, speaking to ourselves these kinds of Psalms.
Wake up, O soul, and bless the Lord! Praise Him for Who He is!  Remember Who He has revealed Himself to be! Praise His holy Name!
Do not forget His benefits.
Think of what He has done and is doing for you:
He forgives all your sins (v.3a).
He has provided and continues to provide your good health (v.3b).
He has mercifully redeemed you from the pit of your deserved destruction (v. 4a).
Out of His compassion and love, He shares all that He is and all that He has (v4b).
He provides good ways and good things to satisfy your needs and desires (v.5a).
He renews your youth like the eagle's.
Think of what He has done and is doing for others:
He works righteousness and justice for the oppressed.
He has given His Word in the Old Testament – He made His ways known to Moses and His deeds to the people of Israel.
He has made Himself known not only as the Law-Giver, but the Law-Keeper on our behalf, the author and mediator of a new covenant showing that He is compassionate and gracious, slow to anger, and abounding in love. He will not always accuse nor harbor His anger forever, FOR THERE IS NO CONDEMNATION IN CHRIST JESUS!
Think of what He has done and is doing for US!
He does not treat us as our sins deserve or repay us according to our iniquities.
As far as the east is from the west, so far has He removed our transgressions from us.
His great love for those who fear Him is unsurpassed- as high as the heavens are above the earth.
Think of His Fatherly mercy (Psalm 103:13-18).
Recognize His Sovereign rule (Psalm 103:19).
The Psalm ends calling upon all creation to worship Him with audible praise: the mighty angels who do His bidding (v. 20,) the heaven hosts – servants who do His will (v. 21), and all His works (v. 22).
TODAY'S READING FROM THE BOOK OF PROVERBS – PROVERBS 26:23 
Proverbs 26:23 23 Like an earthen vessel overlaid with silver dross Are burning lips and a wicked heart. 
Beware of persuasive words that are only a thin veneer, disguising ulterior motives. 
PRAY FOR THE NATIONS – We continue to pray for South Africa
From p.757-763 in "Operation World"
South Africa
Republic of South Africa
Africa
Known as the "rainbow nation," a reference to the many ethnicities that make up the population, the nation of South Africa has a long history marked by inter-racial relations. Originally inhabited by Bantu-speaking tribes, Dutch traders established a settlement in 1652, and the British arrived in 1806, eventually colonizing South Africa. In 1948 the government implemented a policy of apartheid, which legalized racial segregation and discrimination. The first multi-racial elections took place in 1994, yet the national identity continues to be formed from a struggle between different groups who have come together as one nation. Much fragmentation remains. The nation faces not only great ethnic tension but also high murder rates, corruption, crime, and an HIV/AIDS epidemic.
South Africa is a young nation: one-third of the population is under 15, and 70% is under 35. It is also a middle-income nation that composes 40% of Sub-Saharan Africa's GNP. Traditionally an economy of agriculture, livestock, and mining, a large financial industry, and tourism is developing as well. Yet corruption, HIV/AIDS, high crime rates, and high unemployment and poverty rates all adversely affect the economy.
Traditionally a religious country, three out of every four claim to be Christian, and these numbers are slowly increasing. There are many mainline and smaller independent churches. The charismatic population has seen phenomenal growth and makes up nearly a quarter of the population; the Pentecostal movement has grown from 400,000 in 1960 to 6.3 million in 2010. However, much nominalism exists, especially in the mainline denominations. The church is on the frontline of confronting the nation's challenges; there has been a large response to the HIV/AIDS epidemic, ministries to the poor and disadvantaged, and work on racial reconciliation. Yet healing is needed between the various cultures and churches. Spiritual training for the leaders of the various African independent churches is also needed. 
Challenge for Prayer
The legacy of apartheid continues to impact the nation. Despite progress in some areas, inequalities and injustices of the past continue to shape the future. Pray especially for:
a) Reconciliation among all races. This applies not just to black-white dynamics but also to colored and Indian peoples as well as to relationships among various black ethnicities. The "rainbow nation" must still deal with contempt, mistrust, and deep-seated hurts and fears among peoples of this diverse but troubled land. Pray that the Church might lead the way by living out the truth of oneness in Christ Jesus.
b) Poverty and economic inequality. Land redistribution and affirmative action in employment are contentious initiatives that seek to assist the previously disadvantaged, but they come at a cost to the efficient running of the economy. Extremes of wealth and poverty persist. The black majority itself includes a wealthy elite and a poor majority, but the middle class is growing. Pray for economic measures that might uplift those most needing assistance without crippling the effective running of the economy.
c) Rape and violent crime rates are alarmingly high. The proliferation of illegal firearms, poverty, desperation and lack of justice fuels hopelessness and anarchy. Pray for those working for justice and for people's safety – especially pray for the beleaguered police force. Pray for Christian ministries working with children at risk, jobless young people, prisoners and the police force. Pray that the spirit of violence – both physical and sexual – might be bound under the authority of Christ.
PRAYER: Lord God, we acknowledge You are the Giver of every good and perfect gift. We remember all the good You have done for us personally, for others, and for Your redeemed people. You have manifested Your justice and magnified Your mercy in the sufferings that our Lord Jesus took on our behalf. In our turning, You have turned us. In our restoration, You have restored us. You are the source of our salvation. You are the center and the circumference of our joy. May we never forget our daily benefits. Enlighten our heart's understanding of Your tender mercies, that we may continually draw near to You. In Jesus' Name. Amen.
– Pastor David MacAdam