TODAY'S READING FROM THE OLD TESTAMENT- – ISAIAH 57:14- 59:21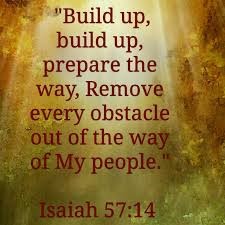 In contrast to God's stern rebuke of Israel's stubborn idolatries in Isaiah 57:3-13, encouragement is offered to a faithful remnant in verse 14.
Isaiah 57:14-15 14  And it will be said, "Build up, build up, prepare the way, Remove every obstacle out of the way of My people." 15  For thus says the high and exalted One Who lives forever, whose name is Holy, "I dwell on a high and holy place, And also with the contrite and lowly of spirit In order to revive the spirit of the lowly And to revive the heart of the contrite. 
God chastised them for their pride and greed, but now the time had come for God to heal them.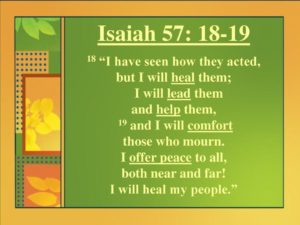 Isaiah 57:18-19 18 "I have seen his ways, but I will heal him; I will lead him and restore comfort to him and to his mourners, 19 Creating the praise of the lips. Peace, peace to him who is far and to him who is near," Says the LORD, "and I will heal him." 
God's pathway to peace is through righteous judgment. The Prince of Peace, the Suffering Servant would make peace.
Isaiah predicted this earlier in Chapter 32:
Isaiah 32:17 17 And the work of righteousness will be peace, And the service of righteousness, quietness and confidence forever.
True peace can come no other way than through the work of God's righteousness. He makes peace through the blood of His cross (Colossians 1:20). The experience of the righteous peace of God can only be experienced by the impartation of the Holy Spirit on the ground of Christ's righteous finished work of redemption.
Romans 14:17 17 for the kingdom of God is …. righteousness and peace and joy in the Holy Spirit.
By His stripes we are healed of the rebellious nature of sin's wickedness. In contrast to those who have peace with God, having been justified by faith, "there is no peace for the wicked (the unrepentant)" (Isaiah 57:21).
Chapter 58 and 59 God calls the prophet to cry aloud and review the nation's long history of sin and backsliding.
One of their greatest sins was their reliance upon their religious formalism. They assumed they were pleasing God by gladly observing religious ceremonies and conforming outwardly to their interpretation of the law. In this, they were not unlike the Pharisees of Jesus' day, who gave attention to tithing mint and dill and cumin but neglected the weightier matters of the Law: justice, mercy and faithfulness (Matthew 23:23).
The Lord saw through their vain show of piety. He saw that they fasted for their own pleasure rather than to seek what would be pleasing to God.
The Law required that they fasted on only one day of the year, on the Feast of Yom Kipper, the Great Day of Atonement. This was to be a time of reflection and self-judgment. They were to recognize their sins as the drama of the priest going into the holiest of all with the blood of a sacrificed animal, and a scapegoat was led into the wilderness of forgetfulness.
However, people could fast voluntarily on a personal basis. It seemed however that they were upset if their piety wasn't being noticed. (Jesus commented on this kind of fasting for show in Matthew 6:16-18.)
Isaiah describes God's chosen fast. It is not like the fast they were choosing. Rather than fasting to feel good about yourself, imagining yourself to be holier than others, they should seek the Lord with a humble and contrite spirit.  The Lord would prefer to see them consider how they could reflect His true image to others. For example, He is a God who is compassionate to the needy. They should share their bread, open their homes to the homeless, and clothe the poor. God's fast would have us be as forgiving as He is forgiving, as merciful as He is merciful, as generous as He is generous, to loosen the bands of wickedness and let the oppressed go free (Isaiah 58:3-7).
It is when they are in a right relationship with God that He will answer their prayers.  (Their sins had put a barrier between themselves and God.)
Isaiah 59:2 2 But your iniquities have made a separation between you and your God, and your sins have hidden His face from you so that He does not hear.
The Psalmist had written earlier,
Psalm 66:18 18 If I regard wickedness in my heart, The Lord will not hear.
They should repent of their pride, legalism, finger-pointing and evil speaking and put their religious showmanship aside. In their taking time to fast, they should consider how to be true to God and thereby sensitive and available to meet the needs of others.
The Lord also critiques their compromising the purpose of the Sabbath. But if they repent and take delight in the Lord, He promises them a glorious restoration.
Isaiah 58:10-12 10 And if you give yourself to the hungry and satisfy the desire of the afflicted, then your light will rise in darkness and your gloom will become like midday. 11  "And the LORD will continually guide you, And satisfy your desire in scorched places, And give strength to your bones; And you will be like a watered garden, And like a spring of water whose waters do not fail. 12  "Those from among you will rebuild the ancient ruins; You will raise up the age-old foundations; And you will be called the repairer of the breach, The restorer of the streets in which to dwell."
There is an application to our own lives also. For we truly flourish when we walk in the Spirit, pursuing what is pleasing to God. The Lord wants us not only to see what is pleasing to Him, but to savor what is pleasing to Him.
Isaiah 59 reminds us that the problem of unanswered prayer is not on His end. His arm is not too short that it cannot save, nor His ear so dull that it cannot hear. They had turned away from Him. Instead of maintaining a disposition of faith, they were living under the domination of sin and the Father of lies (John 8:44).
Isaiah gives us a word picture of the sin nature and the evil that permeates their nation (Isaiah 59:6-8).
Isaiah compared their evil rulers to pregnant women who conceived mischief and gave birth to iniquity. Their output is devilish (they are like snakes hatching eggs) and unreliable (like spiders whose beautiful webs prove to be useless and are so easily destroyed; 59:4-6).
The Apostle Paul will quote this in Romans 3:15-16.
Isaiah 59:7 7 Their feet run to evil, and they hasten to shed innocent blood; Their thoughts are thoughts of iniquity, Devastation and destruction are in their highways.
The nation comes under conviction of sin.
Isaiah 59:11-12 11 All of us growl like bears, and moan sadly like doves; We hope for justice, but there is none, for salvation, but it is far from us. 12 For our transgressions are multiplied before You, and our sins testify against us; For our transgressions are with us, and we know our iniquities.
The human predicament is described. Truth has fallen in the streets and no longer stands. True justice is turned back, and righteousness stands far away.
There is none righteous among those born of Adam's seed.
Isaiah 59:16a 16 And He saw that there was no man, and was astonished that there was no one to intercede.
Enter the Son of God!
Isaiah 59:16b Then His own arm brought salvation to Him, And His righteousness upheld Him.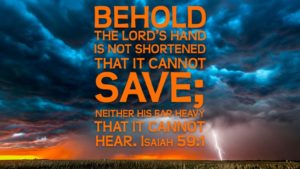 Galatians 4:4-5 4  But when the fullness of the time came, God sent forth His Son, born of a woman, born under the Law, 5  so that He might redeem those who were under the Law, that we might receive the adoption as sons.
Verse 17 sounds like what we read in Ephesians 6:10 – 17.
Isaiah 59:17 17 He put on righteousness like a breastplate, and a helmet of salvation on His head; And He put on garments of vengeance for clothing and wrapped Himself with zeal as a mantle.
Isaiah 59:20 20 "A Redeemer will come to Zion, and to those who turn from transgression in Jacob," declares the LORD.
All hope for the redemption of Jew and Gentile is in this man only. He will redeem and restore. That restoration is pictured in the gift of the Spirit being upon His offspring! (Isaiah 59:21).
TODAY'S READING FROM THE NEW TESTAMENT – PHILIPPIANS 1:1-26
Paul's letter to the Philippians is often referred to as 'the joy book'.
The words for joy and gladness are found 19 times in the 4 short chapters.
Paul lists the sources of joy in the letter: prayer, Christ preached, faith, suffering, news of loved ones, hospitality, receiving and giving.
Paul is writing this letter during his first imprisonment in Rome (62 AD) while he is under house arrest (Acts 28:30-31).
He declares that he is not a prisoner of Rome, he is a prisoner of Jesus Christ. He is not set for trial, but for the defense of the gospel. The word of God is not bound. We will learn that many of the Roman guards are coming to faith because of Paul's faithful ministry while in house imprisonment (Ephesians 4:22).
In Chapter 1 Paul writes about the furtherance of the gospel (Phil 1;12-26).
Paul starts his letter with a prayer of thanksgiving for the partnership the Philippians have had in his ministry. He appreciates their generous support that they have provided over the years since he first came to them and planted the church there.
He takes joy in every thought of them, and he rejoices whenever he learns that Christ is being preached and the gospel is being advanced.
Do you take joy in the fellowship of believers and the furtherance of the gospel day by day around the world?
Paul tells them not to feel sorry for him now that he is imprisoned. He sees how God is working in his trial. The whole praetorian guard has heard the gospel and believers are becoming much bolder because of Paul's witness.
Paul is grateful that no matter what the circumstance may be, we can speak of Christ by our lips and by our life.
Philippians 1:19-21 19  for I know that this will turn out for my deliverance through your prayers and the provision of the Spirit of Jesus Christ, 20  according to my earnest expectation and hope, that I will not be put to shame in anything, but that with all boldness, Christ will even now, as always, be exalted in my body, whether by life or by death. 21 For to me, to live is Christ and to die is gain.
As Paul contemplated the possibility of his dying and going to be with the Lord or remaining alive on the earth, he said that he would prefer to depart and be with Christ FOR THAT IS VERY MUCH BETTER (Philippians 1:23). But because He loves the Lord and His bride, the church, He is resolved to stay and continue for their "progress and joy in the faith".
Do you realize that you may be stationed where you are for 'the progress and joy' of others in the faith? This is the heartbeat of evangelism and discipleship in the church.
He wants to be sure that all the believers in Philippi (and those reading the letter today) are standing firm in one spirit, with one mind, striving together for the faith of the gospel and are ready to suffer for Him. 
TODAY'S READING FROM THE BOOK OF PSALMS- PSALM 71:1-24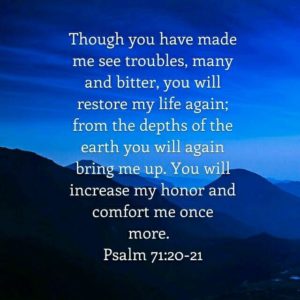 This psalm has an anonymous author who was in trouble. He had enemies and he needed protection.
It serves as an example of how we can pray when we are in tough circumstances.
The Lord is his hope and his trust (71:5). His faith has grown as he has leaned on the Lord for many years.  He has been taught of the Lord from his youth and has proclaimed his deeds even to middle age.
As he looks to the future, he asks that the Lord not cast him off as he gets older (71:9). Without Him he can do nothing.
He wants his life to be a testimony. He wants his life to end to the praise of God's glory.
He does not take the Lord's favor for granted. He wants continual revival in his life.
Psalm 71:20-21 20 You who have shown me many troubles and distresses Will revive me again, and will bring me up again from the depths of the earth. 21 May You increase my greatness and turn to comfort me. 
He prays that the Lord will frustrate the enemy's schemes against him. He is determined to never stop praising the Lord! (Psalm 71:22-24)
Psalm 71:24 24 My tongue also will utter Your righteousness all day long; For they are ashamed, for they are humiliated who seek my hurt.
TODAY'S READING FROM THE BOOK OF PROVERBS – PROVERBS 24:9-10
Proverbs 24:9-10 9 The devising of folly is sin, And the scoffer is an abomination to men. 10 If you are slack in the day of distress, your strength is limited. 
PRAY FOR THE NATIONS – PANAMA
Panama
Republic of Panama
Latin America
Geography
Area: 77,082 sq km
The narrowest point of the Central American isthmus, and bisected by the Panama Canal.
Population: 3,508,475    Annual Growth: 1.66%
Capital: Panama City
Urbanites: 74.8%
HDI Rank: 60 of 182 (UN Human Development Reports 2009)
Peoples
Peoples: 32 (3% unreached) All peoples
Unreached Peoples Prayer Card

Official language: Spanish    Languages: 18 All languages
Religion
Largest Religion: Christian
| | | | |
| --- | --- | --- | --- |
| Religion |                 | Pop % | Ann Gr |
| | 3,176,573 | 90.54 | 1.4 |
| | 676,573 | 19.3 | 4.5 |
Challenges for Prayer
Missionary vision. Panama is developing into a sending nation. There are over 94 Panamanians serving cross-culturally, a number bound to increase. A number of agencies work to mobilize the Church into world missions (YWAM, AoG, Baptists, others). The network PAAM ("Panamanians Reaching the World") is at the vital core of the movement and brings together dozens of ministries and denominations. The main obstacles to greater mission sending are lack of unity, lack of vision and lack of training.
 Pray for Holy Spirit fire and truth among nominal Christians. 
Pray for strong Christian impact on the multitude of nationalities passing through the Canal Zone. 
Pray for professing Christians to exemplify righteous living at home and in the marketplace
Situated between Costa Rica and Colombia, Panama serves as the land bridge between North and South America. Flanked by the Caribbean Sea and the Pacific Ocean, the narrow land has long been marked by trade routes to move goods from one ocean to the other. During the Spanish Colonial period, the route became known as the Camino Real (Royal Road), and much gold and silver made its way across the isthmus before departing for Spain. Having endured nearly three centuries of Spanish rule, followed by dictators, Panama has more recently enjoyed relative peace and democratic rule.
An ethnically diverse nation, Panama emboldens its people by its motto: "Panama, Bridge to the World, Heart of the Universe." Indeed, Panama exists as a bridge — both geographically and ethnically. With Mestizos, Caribbeans, Panamanian Caucasians, Amerindians, and other immigrants from around the world, Panama represents a diverse cross-section of the world's population while maintaining a strong, nationalistic identity. The Panama Canal stands as the people's crowning achievement. Spanning 52 long miles, the canal enables seagoing vessels to cross between the Pacific and Atlantic oceans without taking the long and more dangerous route around the tip of South America. As a testament to the canal's influence on global shipping, seagoing vessels have long been built to its dimensions, specifications known as Panamax. A $5.3 billion plan to double the canal's width was approved in 2006.
Of Panama's 3.2 million inhabitants, over 90% claim Christianity. Most of these are Catholic, though Evangelicals have grown from 5% of the population in 1970 to nearly 20% in 2010. All but two languages have Bible translations, and Panama is now sending missionaries to other nations. Despite the Christian majority, the local churches lack vision and unity, while widespread nominalism skims effectiveness. While Amerindians have responded positively to the Gospel message, morality problems plague Panama, including divorce, illegitimate children, domestic violence, immorality, and drug use. 
PRAYER: O Father, when there was no man to save us, none to intercede, when Your justice deservedly turned away from us, and righteousness stood far off; when we utterly failed to discharge our responsibility as those You made in Your image to tell the truth about You, causing truth to fall in the streets, You sent Your Son to be the perfect mediator. He satisfies Your demands of Justice so You can righteously pardon our sins and give us the promised Holy Spirit. Your arm has brought our salvation and Your righteousness now upholds us. Deliver us from any plot of the enemy to bring shame to Your Name. May our lips and our life give praise to You. In Jesus' Name. Amen