TODAY'S READING FROM THE OLD TESTAMENT- GENESIS 44:1-45:28
In Chapter 35 Joseph's story comes to a climax. The sons of Jacob finally receive the revelation that the one they had betrayed, sentenced to death, abandoned to the pit, sold into slavery, now sits at the right hand of the Majesty on high, Egypt's Pharaoh, and holds the power to grant them life or death. They now must look to Joseph, their brother, the beloved of the Father, for their salvation. First, he was despised and rejected, numbered with the transgressors. Now he is recognized for his divine work and is rightfully exalted to carry out justice and extend mercy. Joseph's dream of his brothers bowing down before him has come true (Genesis 37:7).
We see how this event anticipates a day when Israel, the sons of Jacob, will recognize Jesus, the Greater Joseph, as their Messiah (Romans 11:26- 'and so all Israel will be saved').
Zechariah 12:10 10  "I will pour out on the house of David and on the inhabitants of Jerusalem, the Spirit of grace and of supplication, so that they will look on Me whom they have pierced; and they will mourn for Him, as one mourns for an only son, and they will weep bitterly over Him like the bitter weeping over a firstborn."
Once Joseph makes himself known to them, they expect that they will be justly punished for their crimes against him. They were guilty of betrayal, driven by jealousy and hatred. They conspired for Joseph's death. But during all those years of abuse, slavery, unjust imprisonment, Joseph did not look to take vengeance on his enemies. Instead he looked to the Lord, trusting that God had a higher purpose in his circumstances.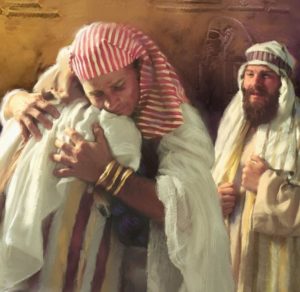 Listen to Joseph as he expresses to his brothers his understanding of how God was at work in his difficult circumstances:
Genesis 45:7-8 7 "God sent me before you to preserve for you a remnant in the earth, and to keep you alive by a great deliverance.  Now, therefore, it was not you who sent me here, but God; and He has made me a father to Pharaoh and lord of all his household and ruler over all the land of Egypt.
Instead of demanding punishment in revenge, Joseph extends mercy to his brothers:
"Come near to me" (45:4)
"God sent me here to PRESERVE LIFE, …TO KEEP YOU ALIVE" (45:5,7)
"You shall dwell in the land of Goshen" (45:10)
"You shall be near to me, and your descendants (45:10)
"There I will provide for you" (45:11)
"To each and all he gave a change of clothes" (45:22)
And he kissed all his brothers and wept upon them
What a picture of reconciliation and restoration!
Furthermore, Pharaoh extends kindness to Joseph's family, for the sake of Joseph:
"I will give you the best of the land of Egypt" (45:18,20)
"Take wagons from the land of Egypt for your little ones, and for your wives, and bring your father" (45:19)
Provisions for your journey- "Load your beasts" (45:17, 21)
Joseph also gives brotherly advice, showing that he knows his brothers well: "Do not quarrel on the way." (45:24)
When Joseph's brothers return to Canaan to meet their father, they have good news to share. How this resembles the good news that we share: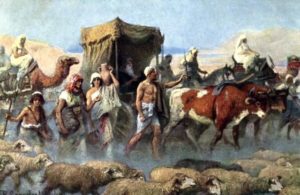 "Joseph is alive and indeed he is ruler over all the land of Egypt" (Genesis 45:26).
At first Jacob does not believe. When he hears ALL THE WORDS of Joseph and he sees the wagons that Joseph sent to carry him, then he believes.
This shows the importance of delivering the whole gospel message in its proper context. We also must highlight that this is the news of God's grace- (In this case, who Joseph is)- "The beloved Son, once reckoned dead, is alive and has been exalted as Lord and Savior!"
The truth about God's grace is further illustrated in that Jacob would not arrive at the promised state of blessing in his own strength! Joseph would provide wagons to bring Jacob to himself!
TODAY'S READING FROM THE NEW TESTAMENT: MATTHEW 14:14-36 
Instead of dispersing the hungry multitudes that were following him, Jesus challenges the disciples to give them something to eat. Their response: "Impossible!". Their thoughts immediately run to their own resources, "We only have.." (Matt 14:17)
Jesus took the five loaves and the two fish and prayerfully yielded the whole situation to the Father with a thankful heart. He broke the loaves and fish into pieces and gave them to the disciples and the disciples to the crowds "and they all ate and were satisfied." The leftovers were more plentiful than what they started with. There were 12 full baskets left over. Each of the disciples had a full meal to take away! Five thousand families were fed. There were probably ten to fifteen thousand mouths to feed as there were hungry women and children in the crowd in addition to the five thousand men.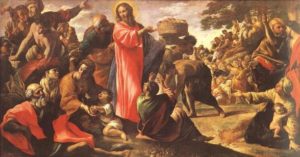 After the crowds are sent away, Jesus goes to pray by Himself on a mountain overlooking the Sea of Galilee while sending His disciples to travel by boat and meet Him later on the other side.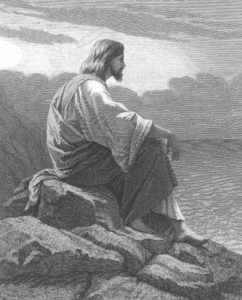 It is interesting that it wasn't until their terrifying night on the Sea of Galilee when Jesus (and Peter) walked on the water that the disciples jointly confessed: "You are certainly God's Son!"
As we labor in the hope that people will recognize who Jesus is, let us remember the event that took place immediately prior to the disciples having their spiritual understanding enlightened: "He went up on the mountain by Himself to pray."
Let us pray that the God of our Lord Jesus Christ, the Father of glory, may give us all a spirit of wisdom and of revelation in the knowledge of Him! (Eph 1:17).
MEDITATE UPON THE PSALMS – PSALM 18:37-50 
Psalm 18:35-36 35 You have also given me the shield of Your salvation, And Your right hand upholds me; And Your gentleness makes me great. 36 You enlarge my steps under me, and my feet have not slipped.
Think of the gentleness of the Lord that makes room for our personal growth (His humility exalts us). Think of His kindness as He expands our horizons (enlarging our steps), and protects our walk (so our feet are kept from slippage). In what ways can you say with the Psalmist: "Your gentleness has made be great. You have enlarged my steps under me and protected my walk."?
TODAY'S READING FROM THE BOOK OF PROVERBS- PROVERBS 4:11-13
The section from the Book of Proverbs complements Psalm 18:36
Proverbs 4:11-13 11 I have directed you in the way of wisdom; I have led you in upright paths. 12 When you walk, your steps will not be impeded; And if you run, you will not stumble. 13 Take hold of instruction; do not let go. Guard her, for she is your life.
Do you cling to the Word of the Lord for life?
PRAYER: Almighty God, Your word is pure, and Your way is perfect. Thank you for the merciful provisions that have been extended to us through the Greater Joseph, the Lord Jesus Christ, who does not impute our sins to our account but receives us as brothers and grants us royal privileges to reign with You as Your beloved children. Not only have You given us Christ, the Bread of Life, but You have given us the Holy Spirit, so that as partakers of Your nature, we can be called into action to feed others with the Life that feeds us and witness the miracle of You doing above and beyond all that we can imagine. Forgive us for relying on our own calculations without considering that You are the hidden factor in the equation that makes all things possible. Thank You for Your humility, gentleness, kindness and abundant care that enables us to grow in the adventure of knowing, loving, and serving You.
Pastor David